Bulla's products are all CoOL​
​BULLA Dairy Foods (Bulla) plans to adopt Australia's new Country of Origin Labelling (CoOL) changes early, including voluntarily adopting them on ice cream products.
Bulla CEO, Allan Hood said he wanted to increase labelling reform for greater transparency for all consumers.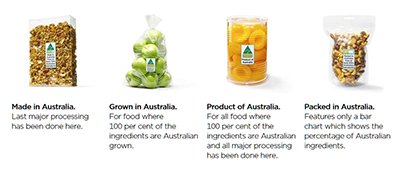 "As one of Australia's largest family owned dairy companies, we are proud to be leading the way to the new CoOL reforms in our category, transitioning our 'chilled products' to the new labelling one year ahead of the mandatory timeline," Mr Hood said.
"In support of transparency across the dairy and wider packaged food industry, we have also voluntarily implemented these changes for our ice cream, with our flagship product, Creamy Classics Vanilla the first to transition in September 2017.
"As an iconic Australian brand, we're committed to ensuring there is greater transparency for our consumers about where the products they choose to buy come from and will continue to deliver the best quality dairy products using real fresh milk and cream."
Deputy Prime Minister and Minister for Agriculture and Water Resources, Barnaby Joyce, recently visited the Bulla factory with Member for Corangamite, Sarah Henderson, to welcome the move. He said the CoOL system would give consumers "the extra level of information they are seeking" around where their food was grown, made or packed, and how much was sourced from Australian farmers.
"The Coalition Government welcomes Bulla's commitment to deliver the Government's new CoOL reforms one year ahead of time on all their chilled dairy products, including ice cream, which is not mandatory under the changes," Mr Joyce said.
"It is clear that Bulla is proud to be an Australian company and wants to use the labels to show consumers where their food comes from, and that the milk they use is proudly all Australian, supporting Australian dairy farmers," Mr Joyce said.
"It is encouraging to see Bulla is also making a concerted effort to source more ingredients from Australian farmers, where possible, as it embraces the CoOL changes and the information it displays."
www.foodlabels.industry.gov.au
ends