China corporation and Australian unis go hard on steel R&D
AUSTRALIA's major steel research and development centre has received another commitment of $10 million from its major supporter, Shanghai-based Baosteel Group.
The Baosteel Group will also provide additional funds for specific research projects being conducted by the Baosteel-Australia Joint Research and Development Centre (BAJC), which combines the expertise of four Australian universities with the industrial strength of a global steel giant.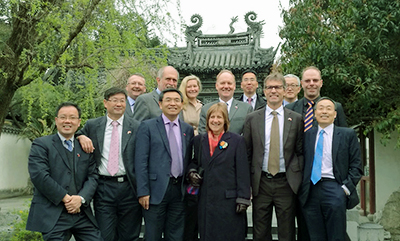 Since 2011 Baosteel has provided about $16 million to BAJC, to support 40 research projects.
The centre has developed new products, including magnesium, aluminium and titanium alloys, and worked on advanced materials including high-performance lithium-sulphur battery cathodes, and graphene.
Baosteel's investment in the BAJC since its formation in 2011 has been more than $26 million.
The collaborative centre is based at The University of Queensland and involves the University of New South Wales, Monash University and the University of Wollongong.
UQ president and vice-chancellor, Peter Høj, signed the renewal agreement with Baosteel Group Corporation president, Derong Chen in 2016.
Senior representatives of the partner universities also attended the signing, which cements funding for the next five years.
Mr Chen hailed the centre as "an important part of Baosteel's technological innovation".
Professor Høj said the reinvestment by Baosteel showed that global business valued the benefits which flow from working with Australian universities.
"It is a strong vote of confidence in Australian university R&D, reaffirming the quality of research available for genuine ground-breaking innovation in line with the National Innovation Statement for Australia," Prof. Høj said.
"Crucially, the centre has given Australian researchers global industry experience, and in the next five years the focus on internships and international engagement will increase."
BAJC is Baosteel's first overseas R&D centre and it has registered 10 patents and attracted $6.2 million in funding from Australian Government research schemes. Universities' in-kind contributions have totalled $21 million in its first five years.
BAJC director Victor Rudolph said researchers had published more than 150 scientific papers in high-impact publications in the past five years.
"More than 100 Australian professors, researchers and PhD students have visited Baosteel in China for academic exchanges and in 2015, a group of 15 researchers, scientists and engineers from Baosteel visited the BAJC member universities," Prof. Rudolph said.
The centre holds annual conferences, each attracting more than 80 research fellows and higher-degree students.
"Baosteel has been able to deploy a number of capacity-enhancing and value-adding technologies, as a result of the centre's work," Prof. Rudolph said.
These included improvements in steel production processes, and quality control and alloy design in low-cost and high property light metals.
Prof. Rudolph said BAJC's research and development focused on metallurgic processes, metal manufacturing, light metals and energy materials.
The global competitiveness of Australian universities was reaffirmed in 2016 by the QS World University Rankings by Subject, in which Australia is one of the strongest nations. The stellar results for Australian institutions include a global ranking of 10 for UQ in mineral resources and mining engineering.
ends