Local innovation boosts aircon efficiency 21pc
INNOVATIVE mini-cell evaporative cooling pad technology developed by Seeley International is said to improve its ducted air conditioning cooling capacity by 21 percent.
Seeley International founder and executive chairman, Frank Seeley, said the enhanced small cell design of the "revolutionary mini cell structure" – known as Chillcel – was the culmination of years of development and rigorous testing, achieving 21 percent greater cooling capacity than previous evaporative air conditioner models.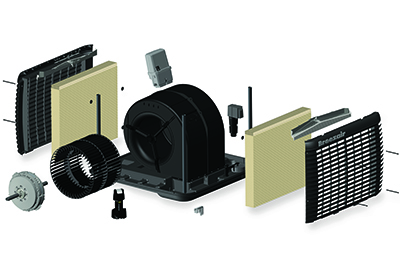 Seeley is using the Chillcel pad technology, for which it has a patent pending, across its entire Breezair range of ducted air conditioners, making it the only manufacturer able to offer evaporative cooling pads fully manufactured in Australia and specifically designed to maximise cooling in the harsh local climate.
"Australia experiences some of the harshest weather extremes found anywhere in the world, so it has been important for Seeley International to design and develop evaporative cooling pads that deliver the best performance outcomes from some of the worst conditions in the world," Mr Seeley said.
"The new pads, which are manufactured at Seeley International's Lonsdale-based factory in Adelaide, offer 25 percent  more surface area and a new 4mm flute to dramatically improve cooling efficiency.
"Sourcing only the best quality paper and then manufacturing the pads locally means we have complete quality control over the saturation efficiencies of our coolers – and we can accurately assess the performance of this and other innovative breakthroughs at our onsite NATA-accredited testing facility."
Mr Seeley said that another new feature introduced across the Breezair range was the external air sensor, which conveniently displays the outside temperature on an intuitive touch screen wall controller.
"Not only does this technology intuitively optimise water and energy use based on outside surrounding conditions, the life of the air conditioner will be extended because it also automatically drains the water tank when temperatures are near freezing point," Mr Seeley said.
"These new features ensure Breezair customers are provided with market-leading products made from the best quality materials. Our customers can buy with confidence and know that they are supporting the creation and sustainment of Australian jobs and our local, but world-leading, manufacturing industry."
To coincide with Seeley International's newly-launched Breezair product features, the company has also unveiled a new-look Breezair website, reflecting feedback received from in-depth consumer market research.
The new easy-to-navigate website helps consumers to better understand the advantages of choosing a Breezair evaporative air conditioner and includes a video showing how the touch screen MagIQtouch wall controller works.
In addition to an animated description of how an evaporative air conditioner works, the website also contains a handy visual energy efficiency tool to help consumers compare the running costs of a Breezair evaporative air conditioner to reverse cycle air conditioning.
"One of the stand-out features of the updated Breezair website is the 'help me choose' feature. This helpful tool assists the consumer in choosing a Breezair model that is right for them," Mr Seeley said.
ends