AfterPay is fintech champion
FINANCIAL technology innovator AfterPay has won the inauguralAustralianOrganisation of the Year award at the FinTech Australia National Awards 2017.
Known as the 'Finnies', the awards are curated with and for the Australian financial technology (fintech) industry.
Retail payments innovator Afterpay was awarded for its revolutionary approach to payment technology that allows customers to 'buy now, receive now and pay later'.
"It's truly an honour to accept this award from FinTech Australia and be recognised amongst our peers and the fintech community," Afterpay managing director Nick Molnar said.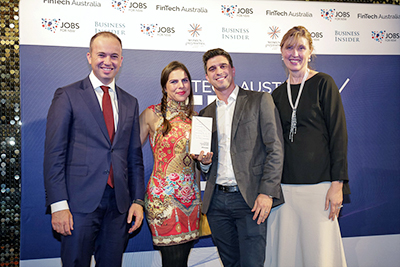 "The retail industry is changing and innovation is key to keeping up with customers, who now have more power than ever in the way they choose to pay. We are proud to be able to offer a payment option that resonates with Australian consumers, and helps to stimulate sales and grow retail businesses."
Afterpay recently celebrated its 12-month anniversary listing on the Australian Securities Exchange (ASX) and now has more than 650,000 customers and over 4,300 retail merchants.
Mr Molnar said the platform continued to maintain a strong pipeline of Australia's leading brands and has reported it currently processes about 15 percent of total online fashion retail and three percent of total online retail in Australia.
Over the past 12 months Afterpay has launched an anticipated iPhone and iPad app which shot to number one on the App Store within 48 hours of announcing the launch to its customer base. Afterpay is also branching out into department stores announcing significant partnerships with household Australian brands including Myer and Big W.
The fintech winner has also accelerated by partnering with e-commerce platforms, global heavyweight BigCommerce and established local Neto, as well as payments provider Tyro Payments.
Mr Molnar said Afterpay had hit it off with a range of consumers, in particular millennials, which comprise 73 percent.
"Retailers are truly connecting with millennials on a personal level and the advocacy through their customers has been incomparable," Mr Molnar said.
Heavily focused on expanding to broader retail categories and consumer demographics is the way forward for Afterpay, he said.
The substantial increase to over half a million customers embracing the 'buy now, receive now, pay later' payment option reinforced this vision, he said.
www.afterpay.com.au
ends