Could Australia's mythical Inland Rail finally be on track?
INLAND Rail has been spoken of in almost mythical terms for generations in Australia – but a recent commitment of  $594 million by the Federal Government seems to make it a serious prospect for the first time.
The joint announcement of the funding, to open up the corridor for inland rail to begin construction, was made in early May by Federal Finance Minister Mathias Cormann, Infrastructure and Transport Minister Darren Chester and Regional Development Minister  Fiona Nash.
"Inland Rail is a truly transformational project that will open up the freight corridor between Melbourne and Brisbane, via regional New South Wales, and boost productivity for decades, Mr Cormann said.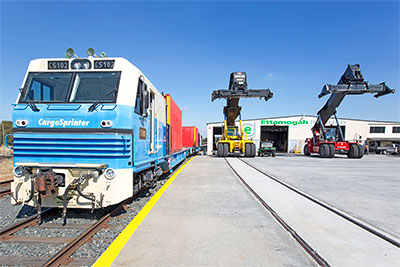 "The economic benefits of Inland Rail will be felt across the nation. The east coast freight corridor between Melbourne and Brisbane already generates 75 percent of Australia's gross domestic product.  It is responsible for commodity exports of more than $260 billion each year.
"Inland Rail will deliver almost $22.5 billion of direct and indirect benefits to Australia. Inland Rail will be a huge boon for industry, including the mining and agricultural sectors in eastern Australia, helping to meet the long-term Melbourne to Brisbane freight challenge.
"It will reduce the strain on other infrastructure in our national network, providing a freight solution capable of carrying the eight million tonnes of extra freight expected to be travelling between Melbourne and Brisbane in 2050," Mr Cormann said.
"This is equivalent to taking 200,000 trucks movements off the road each year, with every interstate train on Inland Rail the equivalent of approximately 110 B-double trucks. This will improve safety for all road users along the corridor.
"After years of planning, the government is moving ahead to acquire the land necessary to construct Inland Rail. With funding now set aside for land acquisition to commence in 2017, communities will be given certainty as the alignment is decided and the project gets shovel-ready."
The Inland Rail development is through the Australian Rail Track Corporation (ARTC) in partnership with the private sector. Mr Chester said the Federal Government would now begin market testing for private sector involvement in the project.
He said ARTC was well advanced with planning and pre-construction works right across the 1,700km corridor "and this decision provides a green light for ARTC to advance the project".
"During the construction phase, Inland Rail will create up to 16,000 jobs during the peak of construction," Mr Cormann said. "Once the line is fully operational it will provide 600 ongoing jobs.
"Once built, Inland Rail will also connect with the transcontinental east-west rail corridor at Parkes, connecting South East Queensland directly by rail to Melbourne, Adelaide and Perth, avoiding the need for freight to transit through the congested Sydney network."
 http://infrastructure.gov.au/rail/inland http://infrastructure.gov.au/rail/inland/(link is external)
ends