Speedwell creates Dossiere: secure enterprise document sharing
DOSSIERE is fast becoming the secure document sharing app of choice for government and large commercial enterprise sensitive material.
Speedwell CEO Bruce Young said the Dossiere product had been a case of constantly developing a system originally designed to protect and manage secure documents for the Queensland Government, which had since extended into other levels, including the Federal Government. 
"A few years ago Speedwell was invited to the Queensland Department of Premier and Cabinet for a discussion on managing sensitive cabinet papers digitally and securely on a mobile platform," Mr Young said.
"In today's digital age, it was interesting to learn that government ministers and advisors were still carrying heavy briefcases full of documents in the absence of a better solution.   Some of those documents were highly sensitive, some became obsolete soon after dispatch from their offices and some had not been included during the rush to the next meeting.  
"In addition, there were often multiple people making hand-written notes and changes on various hard copies of the same documents, rendering it difficult to capture all of the details easily in a 'single source repository' that could be shared."
Covering the length and breadth of the security needed to accompany electronic documents being handled by multiple people was both a technical and interpersonal challenge.
"It is no surprise that data security and confidentiality is a concern for most organisations due to the increased expertise of hackers and the use of portable devices that can be lost or stolen," Mr Young said.
"However, it quickly became apparent that government departments and many enterprise organisations need confidence that the highest level of security is protecting their information, even while those documents are being accessed by the relevant internal stakeholders on mobile devices.
"In response to that initial meeting, we developed a highly secure mobile document delivery application for iPad, specifically designed to manage extremely confidential and sensitive government and corporate material.  That system has now evolved into our product called Dossiere.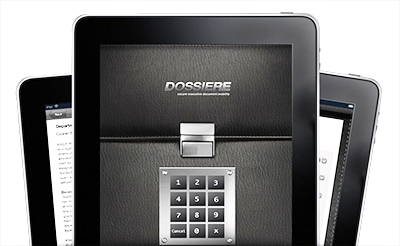 "I am extremely proud of our talented team of developers who created the original app and have continued to upgrade and improve the Dossiere product, which is now used by state government departments and within the most senior Australian Government sectors."
Speedwell is an Alumni Member of Queensland Leaders.
ends