Digital Toolbox platforms expand into Agribusiness and Resources
IT MAY SEEM like the Digital Toolbox business development platforms, created by Brisbane-based Digital Business insights (DBi) have come from nowhere. Yet, it has been a dramatic innovation more than 15 years of Australia-wide business research in the making.
DBi announced the 'open for business' launch of the Manufacturing Toolbox – established to assist Australian manufacturers develop capability and offer a unique avenue for national and international showcasing – in early October. Hot on its heels in November comes the Agriculture Toolbox.
Not far behind it is the Mining and Energy Toolbox, expected in December.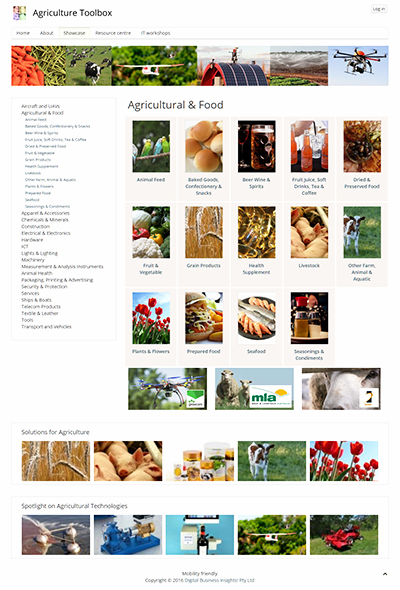 These toolboxes are a Queensland innovation which could provide far-reaching benefits for Australian industry – and for Australian regions, too, as specific toolboxes are developed to connect regional business and industry. The Toolboxes are being  steadily rolled out with key business, government and not-for-profit partnerships.
DBi chief executive John Sheridan said the first two Digital Toolboxes are designed to help Australia's manufacturing and agriculture business leaders develop, build capability and showcase their products and services to new markets, both local and overseas.
Mr Sheridan said associated with the Toolboxes were 'curated showcases' presenting best of breed Australian products and services to national and international markets. These can be organised to suit specific countries and the first to be developed is the Taiwan-Australia Manufacturing Showcase, in association with Queensland Trade and Investment and the Taiwan Economic and Cultural Office.
"The Toolboxes are free to join," Mr Sheridan said. "You can then upload introductory information on your business into the Manufacturing Showcase – an online catalogue where Australia's manufacturers and primary producers can present their products nationally and to the world. 
"The Toolbox showcase already has visitors from China and Taiwan spending an average of 20 minutes looking at manufacturers on the site, with visitors from 50 countries in all.
"In response, we are now creating specific showcases for major overseas markets, working with the business councils to showcase the sectors of most interest to them – food, biotech, 'green', smart machinery, circular economy, ICT and so on."
Business Acumen is the media partner for the Digital toolbox program and is a member of the advisory panel. The web and online learning technologies behind the Digital Toolboxes has been created by DBi co-founder Geoffrey Grantham, also of Brisbane, whose previous credits include online training systems for the international automotive sector, utilised by TAFE and similar colleges in the US, Canada, South Africa and several South East Asian countries.
http://manufacturing.digitaltoolbox.org
http://agriculture.digitaltoolbox.org
ends