Cross Border Air launched 'out of necessity' during pandemic  
BUSINESSES launched out of necessity have a high success rate, so it is no wonder that freight and cargo charter flight group Cross Border Air Inc. – launched to assist companies struggling to move goods during the COVID-19 lockdowns – is flying high.
Brisbane-based Cross Border Air Inc. is a sibling company to Monarc Global, the company that has developed industry-leading fleet management and booking software for the air charter industry.
Less than a few weeks old, Cross Border Air has already facilitated more than 20 -25 freight and cargo flights around the world, with over $45 million in turnover.
The coronavirus shutdowns made Cross Border Air both a necessity and an opportunity, co-founder Royce Crown said.
He said it was a case of "being there at the right place and the right time, but in this case, the company also derived from a pandemic".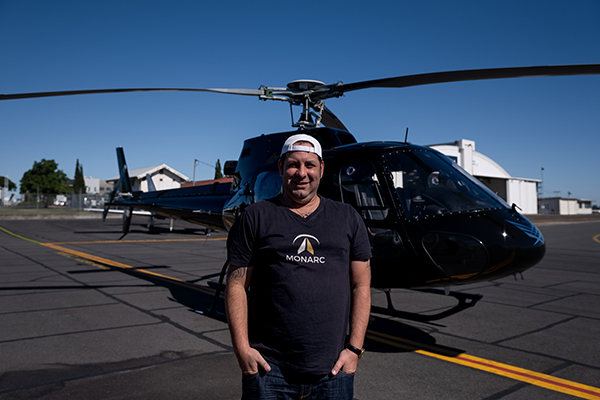 "It was amidst the covid-19 lockdown," Mr Crown said. "Most businesses were struggling to get freight and cargo out of specific countries due to the halting of commercial flights.
"And to make matters worse, these businesses were also being price gouged of up to 400 percent more than the actual cost."
At the time, Mr Crown and his team from Monarc Global – a company that specialises in aviation technology software for charter operators – were already facilitating repatriation flights for stranded Australians overseas, plus working on their product Travech, when they started receiving calls from companies enquiring about freight and cargo services.
Founders Barry Shepherd, from Kingwood Texas, with a history of experience in logistics, and Royce Crown, with over 20 years in the private charter and aviation industry, soon realised the opportunity and a gap in the market for a reliable, efficient and competitively priced service to be offered.
With an office in the US and Australia, Cross Border Air facilitates only whole aircraft chartering. With early demand being for medical supplies, they soon saw that the market was not for small shipments.
"We don't deal with small deliveries," Mr Crown said. "We started the company out of an urgent need to move medical supplies (essential) and other non-essential items, and so we want the company to reflect its purpose as being a solution for full aircraft cargo shipping.
"The client must have enough cargo to fill an entire aircraft. We are in the market to provide long term solutions for the client, giving customers competitive price points by providing multiple runs for their freight and cargo delivery," ​Mr Crown said.
Cross Border Air Inc. utilises airliners and freighters for long term solutions in freight and cargo, bypassing the need to use commercial airlines.
www.monarcglobal.com
ends