Budget tax grab puts Qld on the back foot for new resources investment
QUEENSLAND now has the highest tax rates in Australia for resources projects, undermining the state's hard-won reputation as a global commodity leader and risking the 315,000 jobs in the sector, Queensland Resources Council (QRC) chief executive Ian Macfarlane said today.
"The surprise 25 percent hike on gas royalty rates in the state budget, coupled with Queensland's sliding scale for coal royalties, means the Palaszczuk Government oversees the highest rate tax grab on the resources sector in Australia," Mr Macfarlane said.
"Hiking up gas royalty rates to a flat 12.5 percent will make Queensland the highest taxing state on the East Coast. It will even put the state out of kilter with gas-rich Western Australia, which has a tax range that starts at 10 percent and only increases to 12.5 per cent for secondary licences. Plus we now have the threat of a royalty review process hanging over Queensland's second most valuable export industry.
"At current market prices, Queensland already has the highest rates of coal royalty taxes of any state in Australia, well above the other significant coal-producing state of NSW. A tonne of high-quality Queensland coal pays 43 percent more in royalties than in NSW. What signal does that send to investors?
"Queenslanders deserve a fair share from the development of our state's resources. At the end of the day those resources belong to all Queenslanders. But on existing tax rates resources projects already pay enormous dividends to the Palaszczuk Government.
"This financial year the Queensland Government is reaping $5.2 billion in resources royalty taxes. That includes $450 million in petroleum royalties. In the space of one year petroleum royalties have more than doubled from $187 million in 2017-18.
"Next financial year the resources sector will pay $5.45 billion to the Palaszczuk Government in royalty taxes. The onus is on the Government to make sure that enormous tax revenue is spent fairly and wisely across the state – not resort to bigger tax grabs to fill budget black holes.
"By putting up royalty taxes with no warning and no consultation, Treasurer Jackie Trad is selling out the people of regional Queensland – because they are the ones who would be hardest hit by a loss of investment in resources.
"The Treasurer's comments today that because royalty rates for gas have been frozen for 10 years means now is the time for industry to give back more shows a misunderstanding of the way resources projects work to the long-term benefit of all Queenslanders.
"Multi-billion dollar investments are made in resources projects over decades relying on clear rules for investment in order to create regional jobs and support for regional communities for the long haul.
"A tax hike out of the blue with no consultation just doesn't pass muster.
"The Government cannot expect to be taken seriously as a state that welcomes international resources investment when it has shown it's prepared to change the rules overnight with no warning and no consultation."
BACKGROUND DETAILS
According to the QRC, figures from the ACCC show there has been a significant reduction in netback prices for LNG exporters, or the price an exporter can expect to receive for their gas. Since October 2018 the gas price has more than halved. In October 2018 the price was A$13.21 per gigajoule, while in June 2019 the price was $6.38 a gigajoule. Any extra tax impost will make Australian gas more expensive on the global market and therefore less competitive, Mr Macfarlane said.
Coal weekly spot prices last week were: Thermal coal US$71.50 (or A$102.14 with the dollar at 70 cents); coking coal US$198.63 (or A$283.76).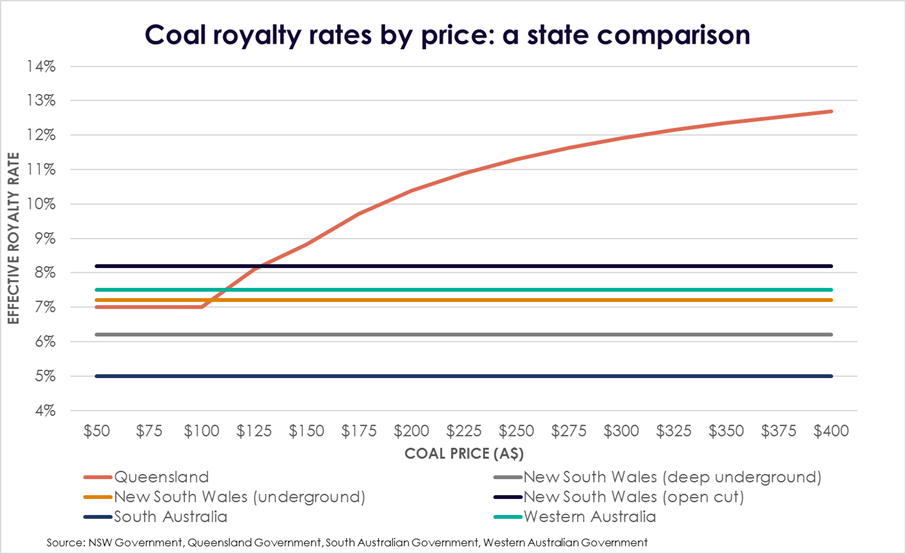 ends