THE IMPACT of foreign investors in Australian residential property is the subject of a special report by Propell National Valuers – and the results are in contrast to recent reports in the popular media.
Prepared by Propell National Valuers head of research, Linda Phillips, the report found the impact of foreign investors is in defined markets and is here to stay. But canny domestic investors are seeing the trends and joining these markets for greater price growth.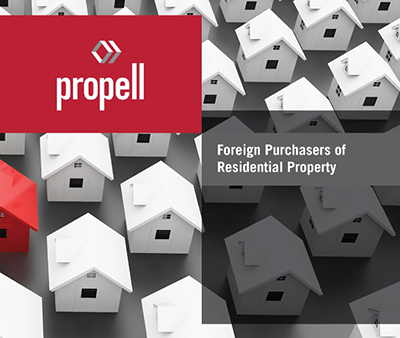 "Foreign buyers are here to stay," Ms Phillips said. "Their impact is in defined markets.
"Rather than complaining about them, domestic buyers might do better to deal into the game and buy into the same market on the assumption that price growth will be stronger in those markets that attract foreign buyers."
The Propell report found overseas buyers mostly came from China, Canada and the US.
She said "media hype" about foreign buyers pushing up housing prices had been way overstated, based on a recent House of Representatives report and submissions.
"Australia already has tighter restrictions on foreign buyers than most countries," Ms Phillips said. "Foreign buyers account for less than 2 percent of all purchases.
"Although the Sydney market gets the headlines, Melbourne approvals were double those of Sydney (over the past year)."
Ms Phillips said the important factor in residential property was that foreign buyers targeted specific property ranges, mostly inner city apartments and expensive properties in Sydney and Melbourne, with Brisbane starting to attract interest.
"In those specific markets, the impact on prices is likely to be measurable," Ms Phillips said."
A factor into the future was that that fall in the Australian dollar is making Australian property more affordable for overseas buyers and interest is likely to increase.
"Australian property prices are cheap compared to most cities in Asia," Ms Phillips said.
"Melbourne core CBD prices are on par with Kuala Lumpur, 50 percent cheaper than Sydney, 200 percent cheaper than Singapore, 350 percent cheaper than Hong Kong, and a staggering 550 percent cheaper than London."
The Propell National Valuers report determined that house prices were likely to continue to increase in the next year, regardless, by 10 percent in Sydney, and 7 percent in Melbourne.
Ms Phillips said the House of Representatives report that the Propell research also looked at stated: "Foreign investors are vital to the property market, are not to blame for making prices unaffordable for Australians, and if banned would curb the construction of new homes."
However, Ms Phillips said the report also proposed better compliance measures by the Foreign Investment Review Board (FIRB) and the law should be enforced – but these measures would not affect the demand from foreign investors.
Click here to download the report in full
ends