Bond adventure: the amazing case of David Wallader
A BOOK on the intriguing and extraordinary 2008 US$1.5 billion 'counterfeit' trial and conviction of David Wallader – followed by his urgent  re-trial and quashing of all international fraud charges for 'no conviction recorded' – is now in production  by Australian publisher Screamer Media.
David Wallader's story has all the hallmarks of an international espionage novel, or perhaps an Indiana Jones movie – trillions of dollars of 1934 US Treasury bonds, housed in elaborate once-only access plaster of Paris boxes, sealed under glass with Do Not Open warnings of poisonous gas within; and all hidden in deep underground caves to protect them from the Japanese invasion of 1942. 
Except, until now, the back story of the Australian Federal Police astonishingly accusing him of trying to 'sell' an alleged US$1.5 billion worth of 'counterfeit' US Treasury Bonds in his possession – which he had been asked to try to authenticate – to the Turkish Government has not been told.
Mr Wallader said, at first, he had laughed when he had heard the peculiar charges raised against him – but they proved no laughing matter as his life was sucked into a whirlpool of damning false accusations, flimsy evidence, clumsy defence and possible perjury of a person in the witness stand against him. This maelstrom led to his initial custodial conviction.
Even as he was being hauled off to Numinbah Prison Farm, he could not understand, or believe, the circumstances that had led to this cataclysmic downturn in the 62nd year of his life.
The former Westpac bank manager had branched out from that increasingly inhibited world, after progressing to the leading ranks of bank management, to join the agriculture industry in the late 1980s – and things were going well at his innovative Colinton Station property in Queensland by the early 2000s.
Perhaps because David Wallader had a wealth of banking experience – he had handled the coupon interest payments of Commonwealth bonds, so he knew what genuine bonds looked like and how they operated, plus he had written a thesis on trading securities and bonds – that a friend in the Philippines asked him to take a look at these intriguing 'US Treasury bond' caches. Mr Wallader was also sceptical, as he knew the Philippines' reputation for creating intricate and elaborate counterfeits of currency.
But he nevertheless agreed when his friend, a Canadian dentist and business owner, made the request out of the blue while Mr Wallader was in the Philippines on holiday in 2001. Intrigued by photographs, Mr Wallader agreed to travel to Mindanao and was shown a broken security box filled with bonds, brought to him on the back of a pick-up truck. All the local people wanted, they said, was David Wallader's opinion on the bonds' authenticity.
If they were counterfeit, Mr Wallader discovered, the tell-tales were beyond his experience at the time.
The main cache was said to be still buried in the untouched glass-sealed cases deep underground somewhere on the island of Mindanao. The locals claimed these 'bonds' were part of a trove that was a wartime guarantee for the Philippines' support of US forces against the Japanese, set to mature in 1964.
"Before David explained to me the nuances of one of his current businesses, IFO, which funds infrastructure through a unique Europe-based trading platform, he insisted on showing me evidence of this horrendous period of his life – and especially, of course, his Crown pardon," Business Acumen editor and author of the new book, Mike Sullivan said.
"I was astonished – it really did sound like an Indiana Jones script: unearthed 'treasure', David's quest to have the bonds verified, which eventually led him to a currency expert in Turkey, then the out-of-the-blue raid on David's home in Queensland by Federal Police.
"David was clearly worried that I might write him off as some type of nutter, but it had quite the opposite effect as I viewed his compelling evidence," Mr Sullivan said.
"In fact, I think it made me take his innovative infrastructure financial platform more seriously as I realised how savvy, honest and methodical this man really was – and how he had been brought almost to the point of suicide by the trials and his temporary jailing. A lesser man would have succumbed to this vast arsenal of malicious legal power against him."
How and why did this happen to David Wallader? In hindsight, and with the benefit of archived evidence that has only recently come available, the answer may be found in the tense geo-political and international financial tumult of 2007: the Iraq War neighbouring Turkey and the onset of Sub-Prime Mortgage crisis dragging the US into its 'Great Recession'.
Finding answers to these questions is what this book is all about, according to its editors.
"It cannot be ignored that there was a war going on in Iraq at the time – a war in which the US needed Turkey's assistance – and Turkey was heavily in debt to the US," Mr Sullivan said. "A scenario in which – brought to Mr Wallader by a financial business executive in Turkey – that country's government could possibly obtain such bonds for millions of dollars. That is, assuming they turned out to be authenticated, Turkey might trade them back to the US for trillions. Such a scenario would have been very, very uncomfortable at the time.
"Perhaps as significant, David Wallader found himself on the precipice of another unexpected event, the sub-prime meltdown of the US financial sector. Remember, this was 2007 … and the Great Recession and its near destruction of Wall Street was germinating. The last thing the US would have wanted at that stage was the appearance of trillions of dollars of mature US Treasury bonds."
Whatever the geo-political factors at play, this awful period in David Wallader's life makes fascinating reading. The very District Court judge who convicted him, Charles Brabazon QC, realised on the night after the trial and Mr Wallader's custodial sentencing, that he had made "a grave error in law".
That night, the judge began the application to set that judgement aside and, eventually, set Mr Wallader free and overturn his conviction.
David Wallader has the stamped Crown judgement paper to prove it.
Significantly, the appeal trial came just 28 days after sentencing – a rare rapid timeframe indeed.
"Oh, and he still has that handful of 'US Treasury bonds' that he took to Turkey to have assessed as fake or genuine," author Mike Sullivan said. "I've seen them and we have very clear photographs of them within this book …
"Except now they have ham-fisted black ink stamps placed all over them, I'd assume by the Federal Police, which proclaim THIS IS A FICTITIOUS DOCUMENT.
"Why would Australian Federal Police do such a thing? The re-trial and appeal was won on the grounds that these 'bonds' could not be proven as counterfeit beyond reasonable doubt – and the prosecution could not produce a genuine example for comparison.
"If anything, those stamps raise more questions, particularly as they seem much more like a graffiti than an official announcement, compared with the quality of the paper, the rich inks and watermarking of the 'bonds'.
"The biggest question of all is why he was accused of trying to sell those 'bonds' to the Turkish Government, when Mr Wallader said there was no such offer on his part – he had taken them to Turkey to see if a regional expert in bonds and currencies he knew could authenticate them," Mr Sullivan said.
"An extremely dark episode in David Wallader's life – one which still unfortunately impacts his business reputation, thanks to the anomalies of Google searches and one-sided press coverage of the time – makes for fascinating reading today. This is why we have taken the decision to present David's story in a well-illustrated blow-by-blow account."
Wallader's Word is Whose Bond? is the working title of the book, planned for publication in 2017 by Screamer Media, publisher of Business Acumen magazine.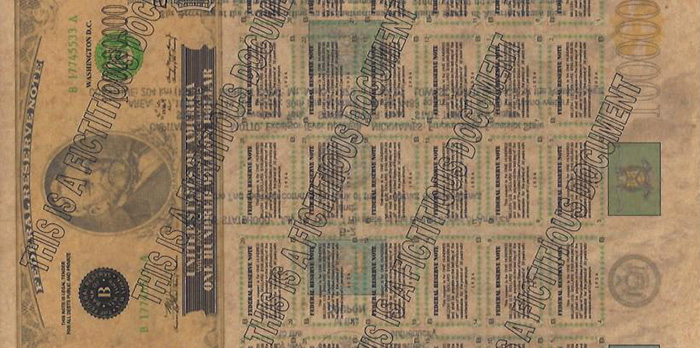 ends