Consumer confidence on rise?
EXTRA >> RESEARCH from an unusual source 'close to the coalface' of consumer spending is predicting steady growth in Australian consumer confidence – and therefore retail spending – leading up to Christmas 2015.
The founder of Cashrewards, the Australian cashback website, with more than 700 retailers on its shopping platform, Andrew Clarke, said about 58 percent of consumers expected to spend more in 2015 over last year and shoppers in the 18-24 years age bracket were still driving the majority of online sales.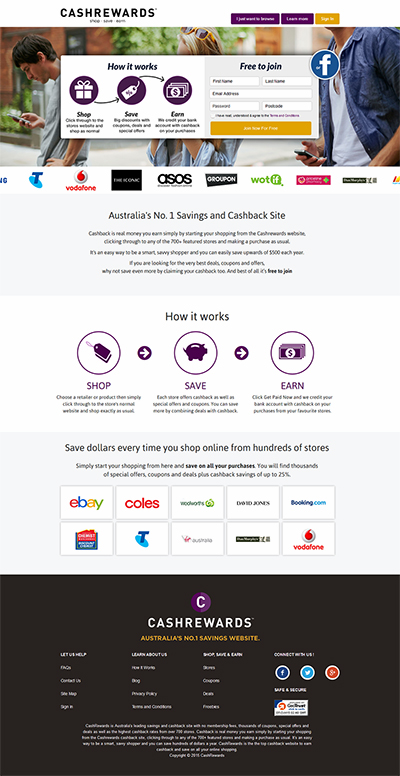 "The outlook for retailers through until the end of 2015 is looking very positive," Mr Clarke said. "Spending has always been a barometer of consumer confidence in the economy, and low interest rates may be a contributing factor towards the positive sentiment about spending."
He said the 58 percent increasing their spend – not including groceries – for 2015 would do so in both online and in-store shopping. The 2015 spend trend is dominated by the 18-24 age bracket, with 64 percent of that group expecting to spend more this year than last.
The young age bracket, not surprisingly, also plans to increase online spending the most by the end of 2015 (38% of respondents), in contrast to the over-55s, where 37 percent planned to spend more in-store.
Mr Clarke said in line with the increased online spending by younger demographics, the survey revealed the 18-25s age bracket was the one most motivated by online cashback incentives (59%), followed by 25-44s (55%), then 45-54s (49%), and over 55s (38%).
The Cashrewards survey panel of 1000 Australians reflected consumer confidence and good news for the Australian economy in the lead-up to Christmas, Mr Clarke said.
The survey found NSW residents were slightly more confident about the economy than those in other states, with 61 percent saying they would spend more this year, followed by 58 percent of Victorians, Queenslanders (58%), West Australians (56%) and South Australians (56%).
 "The fluctuating employment rate and Australian dollar certainly don't seem to have deterred spending by the 18-25s, which may indicate that this age bracket isn't as affected – or just that they don't allow it to affect their planned spending," Mr Clarke said.
"This could be because they're very savvy with their online shopping and look for discounts and cashback for all their purchases."
A key insight from the survey showed that across demographics, 90 percent buy on sale or through a promotion. Shoppers are mostly enticed by discounts (73.8%), coupons (32.3%), and rewards (38.9%).
"Having said that, when it comes to online shopping, 49 percent prefer online cashback over points schemes," Mr Clarke said.
Cashrewards backgrounder
The online cashback concept works like this. With over 700 retailers across categories, Cashrewards claims to offer Australia's highest cashback rates. It's free to join and members can browse, compare prices, and get on average (it is claimed) 10-20 percent cashback on every item purchased; adding coupons to special discounts, shoppers are said to be able to save up to 50 percent.  Shoppers click through cashrewards.com.au to the retailer website of their choice to purchase as usual, then Cashrewards credits the cashback directly into the shopper's nominated bank account. Where it varies most from points schemes is that actual cash comes back to the shopper, rather than waiting for points to accrue for a reward.
Cashrewards says new deals are available daily, from Australian and international retailers including Woolworths, Coles, eBay, Chemist Warehouse, Priceline, The ICONIC, ASOS, David Jones, Saks Fifth Avenue, Lorna Jane, Virgin Australia, Telstra, Vodafone, Booking.com, Avis, Microsoft, Sony, Groupon, Living Social, Dan Murphy's, Uber, Menulog and EatNow.
The Survey
* Survey of 1000 Australian respondents on online shopping habits, conducted by Pure Profile for Cashrewards, August 2015. 
ends