Melbourne's late night economy gets tastier
MELBOURNE's Night Time Economy continues to grow, with food sales in Australia's cultural capital increasing by 12 percent in 2016-17 while drink sales were down six percent.
City of Melbourne Lord Mayor Sally Capp revealed the latest figures from Local Government Safe Communities' Network research recently, tallied from Measuring the Australian Night Time Economy Report 2016-17.
"Melbourne doesn't shut up shop when the sun goes down. The value of our Night Time Economy has increased by $197 million in turnover to $3.2 billion," Cr Capp said.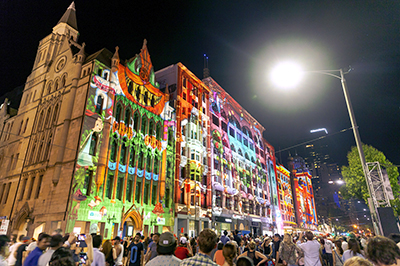 "Over the last 30 years we've transformed Melbourne into a dynamic 24-hour city. We brought residents back into a city and our partnerships with the State Government on major events such as White Night have put Melbourne on the map as a truly global city.
"It's particularly pleasing that drink sales are down given that we now have up to a million people visiting the city each day."
The data mirrors the recent findings of the Australian Bureau of Statistics, which showed that Australians were drinking less alcohol than at any time in past 50 years.
The report shows Melbourne's total Night Time Economy grew by seven percent from 2016-2017, with jobs growth of 7.4 percent to more than 30,000 employees. Food establishments accounted for 71 percent of employment and 65 percent of turnover.
Chair of the City of Melbourne's Small Business, Retail and Hospitality portfolio, Cr Susan Riley said the council had been working hard to activate the city at night.
"We're continuing to work with Victoria Police and licensees to ensure people feel safe in the city throughout the evening and into the night," Cr Riley said.
"The availability of 24-hour public transport on weekends and more family-friendly entertainment means there are more reasons than ever to enjoy the city at night."
There are 2,360 cafes or restaurants in the City of Melbourne, with almost 200,000 seats.
ends
EXTRA >>Read the full report here.