Seachange lifestyle becomes 'transformative' for over 50s
WITH POPULATION RESEARCH projecting that more than five million Australians will be over the age of 65 by 2025, luxury lifestyle communities for over 50s are coming into their own and development has accelerated in recent years.
Many developers are so confident of growth in the sector that they are taking a more creative approach, changing the face of the retirement sector. One developer with runs on the board is Seachange Lifestyle Resorts – a brand of Queensland design and construction company Pradella – and its approach is paying off in terms of sales.
"Baby Boomers are much more demanding than the last generation," Pradella Property Ventures sales and marketing director Alex McMahon said. " The push toward functional specialisation in the over 50s sector, has crucially directed homes be designed to meet the demand for low-maintenance homes with a high-level of technological connectivity and security to better suit the generational change of today's buyers.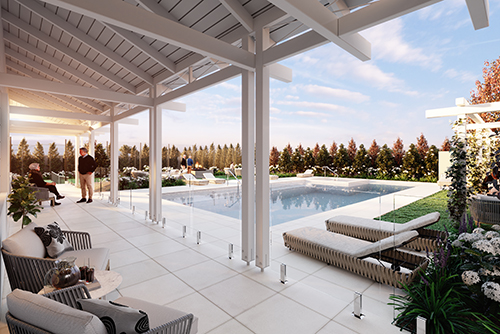 "If you think the new Toowoomba Seachange Lifestyle resort is a magnet for buyers wanting to relax, catch up on all those years of lost sleep while you raising a family or pursuing your career, then you would be correct.
"This modern staged development has been planned as a dynamic 162 home boutique community delivering state-of-the-art facilities and bearing all of the hallmarks of a 5-star resort.
"The success story of this Harristown development is our careful planning and our commitment to ensuring the development responds to the greater community objectives. An example of this would be the provision of larger allotments and space for residents to have their own garden beds," he said.
"The focus being on choice, if you're not a gardener or want no maintenance then you can have that, but if you enjoy gardening then Seachange Toowoomba offers an enviable northerly aspect and lots of space to continue this hobby. It is intended as a community within a wider community, homes are consciously designed to smooth the transition from larger home to a more luxurious, secure environment where home owners can take on as much or as little as they want from this new lifestyle," Mr McMahon said.
Mr McMahon said he took note of a recent study that revealed today's purchaser was younger than their years would suggest. He said the evidence was that they were living longer, active later, using technology more and even working later in life than previous generations of retirees.
"More than one in seven of our past Seachange lifestyle resort owners in South East Queensland are still in paid employment and based on these trends we will see increasing numbers of our home buyers for our luxury lifestyle communities who are not in fact retired," Mr McMahon said.
"As a developer of over 50s communities, our focus weighs heavily on these aspects. It's why we invest a lot of time into researching market trends, finding the right sites, developing masterplans and creating homes that respond to the needs of modern over 50s."
Mr McMahon said Seachange Toowoomba had responded to the baby boomers' desire to downsize their financial commitments while upsizing their lifestyles with homes available from $379,000.
Local builder Nick Ruhle said the modern and spacious floorplans had been designed to enhance natural light and safeguard practicality allowing for a comfortable and convenient home design.
He said the various home styles on offer had been specifically created to maximise the liveable space in each home in an effort to overturn the common misconception that a smaller scale home is not suitable for comfortable living.
www.seachangelifestyleresorts.com.au/locations/toowoomba
ends