TechnologyOne lifts enterprises globally through 'the cloud'
TECHNOLOGYONE is Australia's enterprise software pioneer and the company has taken its leading capabilities to the world over the past decade.
Now TechnologyOne's pathfinding ways are leading towards its goal of becoming one of the world's top global Software-as-a-Service (SaaS) companies.
"TechnologyOne is one of only a few enterprise SaaS vendors globally, so we are well positioned for strong growth," TechnologyOne CEO Edward Chung said. "Moving into 2019, our goal is to continue growing the company into a global SaaS company."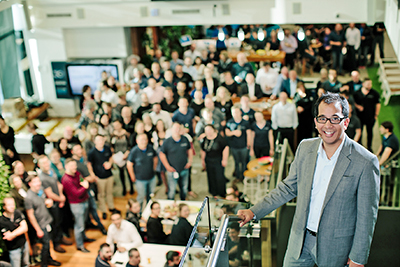 Mr Chung said this approach came about because of the growing needs of TechnologyOne's increasingly global customer base which includes a long list of governments, universities, infrastructure groups, not-for-profits and financial enterprises. This particular journey started a decade ago when TechnologyOne made the bold decision to become one of the world's first 'cloud-based' business software companies.
"This past year, TechnologyOne has transformed into a SaaS company which provides a compelling value proposition to our customers," Mr Chung said. "The TechnologyOne SaaS platform can achieve enormous economies of scale and delivers a level of service, security, reliability, scalability and future-proofing that would not be otherwise possible.
"The SaaS Platform continues to grow strongly with annual recurring revenue (ARR) now $38.1 million, up 41 percent (FY:2018), and we're expecting this this strong growth to continue in the years to come.
"We remain confident that as we continue to achieve greater scale in this business, it will become a platform that will provide significantly more profits in the coming years. We now have 400 large scale enterprise customers, with hundreds of thousands of users, making it the largest single instance ERP (enterprise resource planning) SaaS offering in Australia.
"Having this position allows us to continue to improve the features, speed, security, availability and scalability of our SaaS platform for our customers."
UNIQUE CHALLENGES
TechnologyOne's SaaS offering has never been done before, partly because of the company's unique business model in which it develops, markets, sells, implements, supports and runs its enterprise software.
"We are one of only a few companies globally delivering true enterprise software as a service, offering a fully configurable solution based on a mass production line of servers that run our software for all of our customers in a single instance of software, using one global code line, which provides massive economies of scale to our customers," Mr Chung said.
Transforming into a SaaS company is a major change considering TechnologyOne started as a traditional 'on premise' software company and was very successful in that pursuit.
"This platform allows customers to stay connected with their teams remotely," Mr Chung said. "We're expecting the SaaS platform to continue to propel our company forward and maintain our growth rate."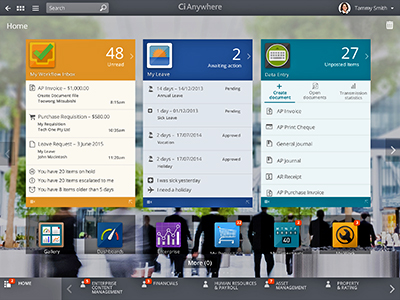 Several markets and industries are a focus for TechnologyOne. Mr Chung said these included Local Government, Government, Education, Health and Community Services, Asset and Project Intensive Industries and Corporates and Financial Services.
"We see that we have substantial room to continue to grow in these chosen markets," Mr Chung said.
"There is a need for cloud solutions and digital transformation to overcome challenges in the Local Government, Education, Federal Government and other sectors, allowing our customers to meet the needs of their customers.
"Many of these sectors are already beginning the move to the cloud. Thirty percent of our customers have moved to SaaS options, allowing our annual recurring revenue to grow by 20 percent every year."
TECHNOLOGYONE IS ABOUT PEOPLE
For a technology company, TechnologyOne is unique in the way it focuses on people. Mr Chung said TechnologyOne was all about helping people to do business better through technology – and that required a human-centric approach for both clients and staff.
TechnologyOne's sustainability, growth and future prospects are all about people doing business better, in all respects, assisted by TechnologyOne's software, he said.
"All of our success has been possible because of the committed and passionate people at TechnologyOne, who never cease to amaze me with what they achieve for our company," Mr Chung said.
"We believe our success comes from strong collaboration and engagement with our stakeholders. We have four approaches when it comes to sustainability in our organisation.
"The first is ensuring our customers are satisfied with the products and services that we provide, and that their data is kept private and secure.
"Secondly, we look after our employees, with multiple opportunities for the growth and development, both personally and professionally. For the past three years we have been named Employer of Choice by the Australian Business Awards, and in 2018 we had one of Australia's top 20 graduate programs (as rated) by the Australian Association of Graduate Employers.
"We believe in engaging young talent and lifting the future generations. They are what will keep these industries moving forward.
"Thirdly, we have a responsibility to care for our community and our environment. In 2016, we started the TechnologyOne Foundation with the goal of reaching out and making a difference to the lives of 500,000 disadvantaged children and youths and their families. We hope to do this by donating our time and money to specific charity partners whose work improves and educates children and youths," Mr Chung said.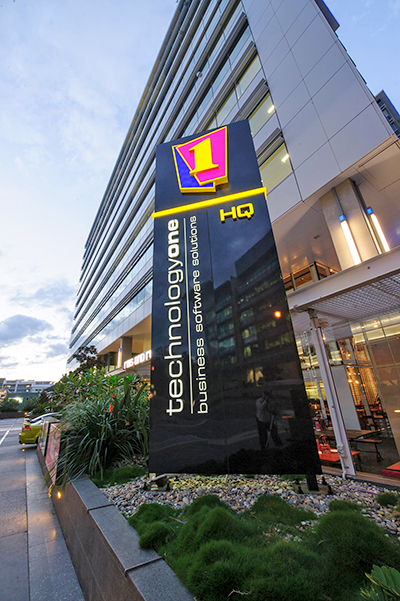 "Lastly, we, as a business, have a responsibility to ensure we are working ethically and in our corporate governance, aligning it to our values across all our relationships with customers, investors, employees, suppliers and other stakeholders. Our ongoing success is fuelled by continuous innovation."
In fact, innovation is 'scheduled in'.
"For example, we refresh our innovation mindset through company-wide Hack Days that encourage creativity and fun, providing an opportunity for employees to form new teams based on a hack topic of choice and work on projects that are outside normal day-to-day work," Mr Chung said.
"Our graduate programs offer an opportunity to allow the next generation to improve their skills and gain workplace experience by working with TechnologyOne's leading engineers. During 2018, we onboarded 20 new R&D graduates across Australia.
"My preference is always to build talent from within," Mr Chung said, "so the next step is to integrate this approach in different parts of the business. TechnologyOne provides opportunities to experience areas outside software as well.
"We have a positive dynamic culture where our teams are hands-on, innovative, customer-focused and have grit and tenacity. At TechnologyOne, we are always innovating and keeping up-to-date with the bigger IT revolution, where everything is mobile, through our latest software technology, 'Ci Anywhere'."
HISTORY OF INNOVATION
Adrian Di Marco, the founder and executive chairman of TechnologyOne, saw an opportunity in the 1980s when the information technology (IT) industry was just starting to make traction.
In a demountable office in the car park of a hide tanning factory in the industrial suburbs of Brisbane, he began to develop a new generation of financial software for business and government departments.
His initiative saw the beginning of Australia's largest enterprise software company, TechnologyOne.
"Now TechnologyOne is an ASX-150 company with 14 offices around the world, employing over 1200 staff and investing over $50 million in Australian innovation just last year," Mr Chung said.
"For more than 30 years, we have been providing our customers with enterprise software that evolves and adapts to new and emerging technologies, allowing them to focus on their business and not technology.
"TechnologyOne has a commitment to continuous innovation, which is at the heart of everything we do."
"I am proud to have been part of TechnologyOne for more than 11 years," Mr Chung said.
"I was appointed CEO in May 2017, after more than 10 years in senior executive roles at TechnologyOne. During my time with the company, I have led TechnologyOne through its continued growth trajectory and transformation into the leading enterprise SaaS business in Australia."
Even so, TechnologyOne keeps setting the bar ever higher for its software.
"SaaS is the new frontier for our customers and our business. TechnologyOne SaaS is driving our strong results. We currently have the leading enterprise SaaS offering for the markets that we serve.
"Our latest release – and we deliver two new releases every year to our SaaS customers – is enterprise software that provides our customers with the superior usability and functionality needed to succeed.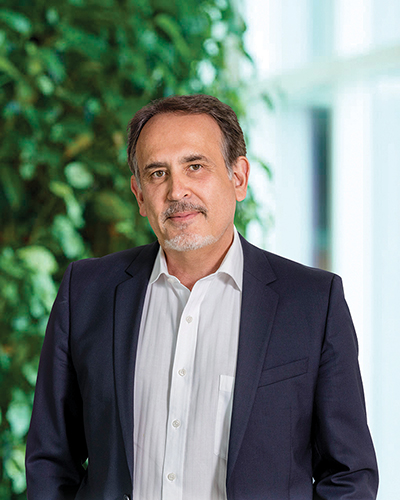 "We are now developing our next generation technology to transform business and make life simple for our customers."
TechnologyOne doubles in size every four to five years.
"We keep scaling our business," Mr Chung said. "Through our innovative Research and Development (R&D) team, we have been able to fully transition into a full-SaaS company, which is enabling us to focus on scaling our SaaS platform.
"We run one of the largest Australian-owned R&D centres for enterprise software. Our developers are leaders in their field who challenge conventional thinking and go beyond the traditional realms of development methodology. In FY18, we invested $54 million in R&D to continually improve our SaaS offering.
"As our company continues to grow, we will identify new opportunities to optimise our enterprise software. These new opportunities provide a landscape to deliver sustainable increases in profitability by helping us deliver greater economies of scale over time."
Of course, all the development in the world can fall short unless there is a clear and practical marketing and client service approach.
TechnologyOne has developed success in this sector through experience, reacting promptly to client feedback, learning from problems in the past that have been overcome, and informing R&D teams of client needs and challenges. TechnologyOne has always capitalised on customer relationships by bringing its teams together with global customers in a series of global business events.
"Our marketing team is integral to leveraging and promoting customer success, which helps us achieve great outcomes company-wide using our vertical market strategy to launch national and international marketing campaigns using traditional and digital marketing tools," Mr Chung said.
"We have also brought our sales and marketing groups together, allowing us to develop sales and marketing campaigns that have assisted us in reaching record numbers of participants at our customer Showcase and User Group events."
MARVEL AT TECH ONE
Staff recognition, and keeping everyone informed of success stories, is part of how TechnologyOne encourages staff to innovate and communicate.
"It is important to give our staff the recognition they deserve and create an environment where everyone is happily working to the best of their abilities," Mr Chung said. "This is why we started an annual awards program called MARVEL Awards, recognising and rewarding employees who go above and beyond in their work.
"MARVEL stands for Merit, Achievement, Recognition, Values, Excellence and Leadership, all strong qualities that we see throughout TechnologyOne," he said. "The awards assist in driving our high-performing culture, by providing employees with a benchmark to strive towards.
"We have awards to reward outstanding employees in all areas of the business, including Leader of the Year, Compelling Customer Experience of the Year, Hack of the Year, Rookie of the Year, and TechnologyOne Superheroes.
"Winners of the MARVELs receive companywide recognition and are inducted into TechnologyOne's League of Extraordinary People," Mr Chung said.
Developing capability is the key to business growth, in TechnologyOne's experience.
"We continue to invest in our people's development so they can grow their capability and accelerate our business growth," Mr Chung said. "In the last year we have run 871 training programs attended by 3,096 team members.
"Our support and encouragement of our broad team includes developing the next generation of talent. Our growing graduate program has succeeded in engaging young talent and we celebrated recognition as one of Australia's top 20 graduate programs in 2018.
"In the last year we have seen significant growth in the number of recruitment applications we receive, the number of promotions earned by our team members and the number of international secondments, most of which were initiated by our people.
"We continue to invest in our innovation culture through company-wide Hack Days. All parts of the business are encouraged to participate, regardless of which team or region they are in. These events enable us to showcase some of our many emerging leaders.
Additionally, some of the key programs TechnologyOne supported this year include the Tech Girls Movement and the Queensland Women in Technology Awards."
PLATFORM FOR GROWTH
The platform for growth is there and TechnologyOne knows that continuing to stay one step ahead of customer needs is paramount for success.
"We have a strong platform for growth, which leverages key growth drivers, these are geographical reach, vertical markets and our SaaS platform," Mr Chung said. "These form our key growth strategies which are well planned and which we are continuing to execute on well, which is made possible with our strong team culture.
"We believe in providing the right environment for our people to grow and thrive. When it comes to customers we continue to innovate and focus on the markets we serve," he said.
"We always want to be investing in new and exciting ideas and innovations. Our latest release will deliver enterprise software that provides our customers with the superior usability and functionality needed to succeed in their sectors.
"To maintain this continued innovation, TechnologyOne will continue to invest in R&D and new technology platforms, like SaaS, as we expect our cloud business to substantially drive the company's growth."
TechnologyOne has also announced that it is about to release its next 'major evolution in enterprise software'.
"The first parts of this is DXP, our digital experience platform, and unveiling our artificial intelligence R&D outcomes," Mr Chung said.
"We will continue to invest in the Ci Anywhere platform to increase the capability of all products. We will also continue to attract new talent and expand our award-winning graduate programs to engage more young people, including launching a summer internship program.
"We will also focus on expanding our Customer Community to enhance our ability to collaborate with other TechnologyOne customers using the insights gained from our SaaS operations to drive continual improvements and continue to ensure our customers are successful using our solutions.
"We see continuing growth from our existing customer base, as our customers increase the usage of our products and services."
Most of all, TechnologyOne will employ that tenacious approach to anticipating, meeting and exceeding customers' technology needs that were set in the company's DNA since founder Adrian Di Marco began writing business enterprise software in that little demountable at a Brisbane hides tanning factory.
"We believe in having guts and determination; and the need to be brave and talk straight," CEO Edward Chung said.
About TechnologyOne
Australia's largest enterprise Software as a Service (SaaS) company that operates in the sectors of Local Government, Federal and State Governments, Education, Health and Community Services, Asset and Project Intensive Industries, and Corporates and Financial Services.
TechnologyOne has more than 1200 staff around the globe and for FY18 (ends 30 Sep 2018)
Net Profit Before Tax was $66.5m, up 15%; Revenue of $299m, up 9%; Expenses of $232m, up 8%; Total Annual Recurring Revenue of $169m, up 22%; Initial Licence Fees of $65m, up 6%, with APAC region up 9%; Operating Cashflow of $49m, up 5%; Cash and Cash Equivalents of $104m, up 12%; Total Dividend of 11.02cps, up 8%; and R&D of $54m fully expensed, up 8%, which is 18% of revenue.
TechnologyOne has 14 offices around the world. These are located in each state and territory of Australia, as well as the UK, New Zealand, the South Pacific and Asia.

Leadership team: Edward Chung, Chief Executive Officer; Stuart MacDonald Chief Operating Officer; Paul Jobbins, Operating Officer – Corporate Services and CFO; Anwen Robinson Operating Officer – UK; Brock Douglas Operating Officer – Consulting; Brett Hooker Director – R&D; Richard Nicol Group Director – Support & Enhance; Jane Coe Group Director – People & Culture; Daniel Sultana – Acting Director – Cloud.
Recent awards and official recognition includes: Finalist in the 2018-2019 Cloud Awards Program in the categories 'Best in Mobile' Cloud Solution and Best SaaS (APAC and Europe); RP Product of the Year at the UK Cloud Awards 2016 for its OneUniversity solution; 2016 SaaS Awards for Best SaaS Product for Non-Profits or Education.
Australian Business Awards: Software Innovation 2017; Employer of Choice 2016, 2017, 2018; Marketing Excellence 2017.
TechnologyOne Foundation awards: Listed as one GoodCompany's Top 40 companies in Australia 'who generously gave back to their charity and community partners' in 2018. Winning the Community Contribution Award at the 2018 Australian Business Awards recognised TechnologyOne's commitment to delivering on its 1% Pledge in its quest to lift 500,000 children and their families out of poverty. In FY18 the work of the TechnologyOne Foundation was recognised with two awards: Winner of the Australian Business Awards Community Contribution; and Ranked 30 in the 50 Best Workplaces to Give Back in Australia in 2018. Technology One Foundation was also shortlisted for the Queensland Philanthropy awards.
ends