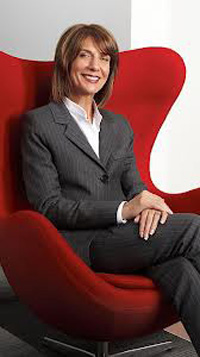 MANUFACTURING Australia, a business coalition of Australia's largest manufacturers, has appointed Sue Morphet, formerly CEO of iconic Australian designer and manufacturer, Pacific Brands, as the group's new chairman.
Ms Morphet takes over from Dick Warburton AO, who retired at the end of 2012.
Ms Morphet had worked for Pacific Brands for 17 years, leaving the company in August 2012.
Ms Morphet came in for heavy media and shareholder attention as a result of her role in moving much of Pacific Brands' manufacturing offshore, to China, in a publicly unpopular move the company believed had allowed it to stay in business.
Manufacturing Australia's member CEOs selected Ms Morphet, they said, because of her passion for the sector, and her credentials as a CEO of a manufacturing company which endured extreme pressures from cheap imports, the GFC and the rapid commoditisation of consumer goods. The CEOs said Ms Morphet's credentials included, during a tough period in the clothing industry, setting in place a strategy that has since helped the company to return to profit and ongoing viability.
The CEOs of Manufacturing Australia's member companies believe that a productive domestic manufacturing sector is fundamental to a healthy Australian economy.
Manufacturing employs almost one million Australians and is one of the largest providers of direct and indirect employment, with between two and five jobs created as a result of each manufacturing job.
"Wherever manufacturing flourishes, so too does skilled employment, innovation and thriving regional communities," Ms Morphet said.
"I am not in favour of protectionism, nor organisations that use external issues to cloud faulty internal business processes," she said.
"For manufacturing to be strong it needs a fair level playing field, a sound commercial and regulatory environment that attracts investment and a representative voice to raise the calibre of national debate on the issues affecting the sector."
Under Ms Morphet's leadership Manufacturing Australia announced it intended to continue working with the Australian Federal and State Governments as well as other industries and influencers to ensure fair and appropriate industry policies, and to secure the future of this sector.
Manufacturing Australia's inaugural chairman, Dick Warburton extended his congratulations to Ms Morphet.
"Whilst positive outcomes have been achieved for Australian manufacturing over the last 12 months, the sector remains severely threatened," said Mr Warburton.
"I'm therefore delighted that Manufacturing Australia, with Sue Morphet at its helm, will continue to ensure that Australian manufacturing is represented by a strong voice for manufacturers on vital public policy and economic issues."
www.manufacturingaustralia.com.au
ends