AusMumpreneur Awards now sponsored by St George bank
THE AusMumpreneur Awards and Conference – 'celebrating 10 years of incredible mums in business' – takes place on Friday, September 6, in Melbourne and the awards are being backed by St George Banking Group.
Peace Mitchell and Katy Garner, founders of The AusMumpreneur Awards and Conference as well as The Women's Business School, said the official naming rights sponsor for the 10th annual AusMumpreneur Awards is St George.
Hundreds of women from all over the nation, including rural, regional and remote Australia, will meet in Melbourne for the AusMumpreneur Conference which takes place prior to the red-carpet awards dinner. There are more than 30 categories and finalists are all mothers who founded their own businesses.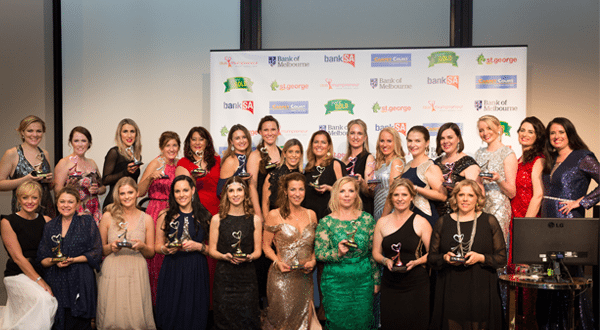 Finalists who are in the AusMumpreneur of The Year category will pitch to judges for the coveted role of AusMumpreneur of The Year.
Ms Mitchell and Ms Garner started the awards a decade ago. Looking back over the past 10 years, the duo have assisted thousands of Australian women business founders and owners.
Peace Mitchell and Katy Garner educate these Mumpreneurs through The Women's Business School and offer recognition and credibility through the AusMumpreneur Conference and Awards which is held annually in September.
"Our community inspires, elevates and supports thousands of women to create their own businesses that work around their family life. We are thrilled that the St.George Banking Group has extended their support to our community," Ms Mitchell said.
Ms Garner said, "Women from all over Australia are arriving in Melbourne today and tomorrow for The AusMumpreneur Conference and Awards. Every year we are amazed at the calibre of women and the stories behind their brands. We are ecstatic that St George recognises Mumpreneurs in Australia and look forward to welcoming them on board as the official partner for the 10th annual AusMumpreneur Awards in Melbourne."
The conference commenced on the evening of September 4 and runs through until Friday, culminating in the 10th annual AusMumpreneur Awards gala dinner on Friday night.
https://ausmumpreneur.com/ausmumpreneurconference/
ends