Andy Kennard awarded Family Business life membership
CALLED a family business legend by Family Business Australia (FBA), hire business innovator Andy Kennard, has been presented with a 2018 Life Membership Award.
The FBA accolade is an acknowledgment of Andy Kennard's role in forging the family-centric business that Kennards Hire has become today, along with his contribution to the family business sector in Australia.
Mr Kennard's life membership award is well earned, according to FBA CEO Greg Griffith. "His contribution to the sustainable growth of Kennards Hire, the equipment hire industry and the Australian family business sector is without peer," Mr Griffith said. "He also served on the FBA board as chairman from 2012 through to 2014 and funded the development of FBA's directors course.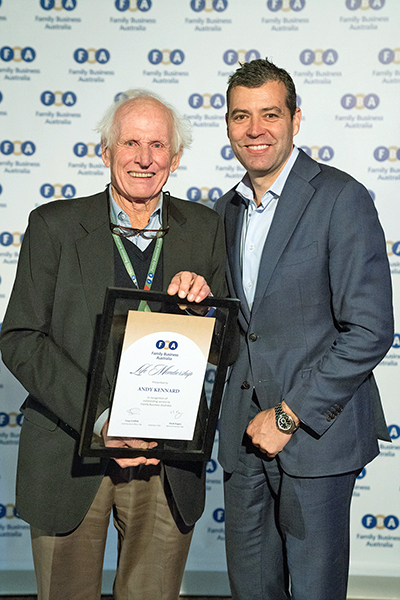 Mr Kennard said it was a special honour to receive the recognition from Family Business Australia.
"As a business founded on firm family values, it has always been incredibly important that our employees feel part of the business," Mr Kennard said. "From the beginning, it is our fair-dinkum values that have enabled Kennards Hire to grow as a multi-generational business in Australia, a country that places great emphasis on hard work and innovation.
"All our branches are part of local communities. From Tamworth in regional New South Wales through to Karratha in Western Australia, it's a privilege to be able to contribute to local economies through investment, employment opportunities and community activities.
"When you spend money with a family-owned business, it helps our communities. And that's a great thing to do," Andy Kennard said.
In operation for 70 years, with a network of over 170 branches and more than 1,600 employees in Australia and New Zealand, Kennards Hire is a third generation family-owned and operated business.
Its current CEO is Andy's son, Angus. Kennards has been a 'proud' member of FBA for 15 years, the business is an FBA Hall of Fame inductee and took home the FBA 2014 Distinguished Family Business of the Year Award.
ends