Tourism Australia gains new board members
BOB EAST is moving up the ranks of the Tourism Australia board to take up the chair role, while another board member Anna Guillan will fill the deputy chair position.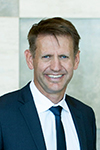 Mr East has more than 20 years experience in the tourism and hospitality industry, while Ms Guillan has the distinction of having been awarded the Order of Australia for her service to the Australian tourism industry and to the community.
For 25 years Bradley Woods has been one of Australia's leading advocates for the hotel, hospitality and tourism industry and he is one of two new directors.
The other is David Seargeant, who has been CEO and managing director of Event Hospitality and Entertainment for 16 years
Tourism Minister Steven Ciobo thanked retiring members Tony South and Andrew Fairley for their contribution to the tourism sector.
Mr Ciobo said Tourism Australia would continue to build on its marketing success with the 'There's Nothing Like Australia' umbrella campaign, with the recent launch of the Aquatic and Coastal and Restaurant Australia campaigns.



ends