PHILANTHROPIST and business 'turnaround king' Basil Sellers has been awarded an honorary doctorate by Bond University.
The doctorate recognizes Mr Sellers' "significant charitable work, sports development and corporate acumen".
It is the second honour the university has bestowed on Mr Sellers, with its largest and most state-of-the-art theatre – Basil Sellers Theatre – also named in recognition of his contributions to the community.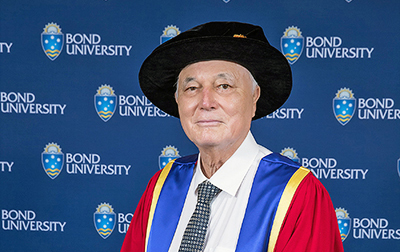 Born in Bulsar, India, before migrating with his family to Adelaide, in 1948, Mr Sellers earned a reputation for his ability to turnaround ailing companies and his philanthropic work. He was named a Member of the Order of Australia (AM) in the 2003 Australia Day Honours.
Bond University vice chancellor and president, Tim Brailsford, said Mr Sellers' significant impact on charitable and community organisations made him the ideal recipient of an honorary doctorate.
"On anyone's measure, he has enjoyed a stellar business career, demonstrating a well developed sense of business acumen and hard work," Professor Brailsford said.
"However, Mr Sellers is not one to rest on his laurels and it is a credit to his character that for the past 25 years he has been concentrating on giving back to the community through philanthropic activities.
"One of the criteria for the award of a Doctor of the University degree is that the candidate must have made an outstanding contribution to society generally and there can be no doubt that Basil Sellers fulfils that requirement."
Among Mr Sellers' many achievements is the purchase of a site in Chennai, India, for the Association for Non-traditional Employment for Women (ANEW) two decades ago. The charity now sees the graduation and full-time employment of nearly 1,000 disadvantaged girls, including many from the slums, each year.
A keen sportsman, Mr Sellers supports a plethora of sporting charities, including a respite centre for elite athletes from the Australian Institute of Sport, along with the McGrath Foundation and the Steve Waugh Foundation, among others.
His philanthropic activities extend to art, having commissioned numerous sculptures that take pride of place at sporting venues such as the SCG and the new Adelaide Oval, along with founding or contributing to art prizes and fellowships.
In business, he made a name for himself as the 'turnaround king' after transforming National Textiles from a company facing financial closure to the largest of its kind in Australia.
He took his skills overseas to London, where he was chairman and chief executive of Gestenter PLC, an imaging and electronics company, now owned by Ricoh, Japan.
"Mr Sellers' achievements are many and Bond University is delighted to recognise his significant accomplishments with the honorary doctorate," Prof. Brailsford said.
ends