SEGRA means business on sustainable economic growth
CLOSE TO 170 people from across regional, rural and remote Australia will converge on the Cobram Barooga border region of rural Victoria and New South Wales this week for the 23rd Sustainable Economic Growth for Regional Australia (SEGRA) conference.
"SEGRA is Australia's most credible independent voice on issues affecting regional Australia," SEGRA Conference convenor, Kate Charters said.
She said the industry forum in the Cobram Barooga region has attracted a record number of registrants reflecting the interest of all of Australia in the future of agricultural regions.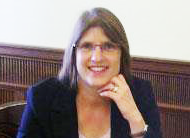 Keynote speakers travelling to Cobram Barooga include Dr Tom Measham of CSIRO, who will present on Strategic Foresight for Regional Australia: mega trends, scenarios and implications.
Dr Daniel Terrill of Deloitte Access Economics will be speaking about Drivers and Constraints to Regional Economic Development.
Professor Lee Pugalis of the University of Technology Sydney will be discussing Delivering Place-Based Regional Economic Development.
Jan Owen, the chief executive officer of the Foundation for Young Australians will be talking about Lifelong Learning and Employment in Australia.
Luke Wilson, Victoria's Cross Border Commissioner, will be speaking with his NSW counterpart James McTavish about Releasing Opportunities at the Border.
"SEGRA is not 'just another conference'," convenor Ms Charters said. "It is renowned for its willingness to take up real challenges and propose actions that understand the true character of economic development in regional Australia.
"This is why we are branded 'The think tank with tangible outcomes'," Ms Charters said.
SEGRA has been speaking out for regional Australia for 23 years. It is a critical forum where regional development practitioners, industry, researchers and government bring together their combined knowledge and ideas on regional futures from across Australia.
The full conference program is on www.segra.com.au
ends