Resources sector welcomes 'no surprises' Budget
BUDGET 2018 >> THE FEDERAL Government's 'surprise-free' Federal Budget will allow the resources sector to invest more, export more and employ more, Queensland Resources Council chief executive Ian Macfarlane said.
Mr Macfarlane said no surprises and no new taxes in the Federal Budget gave the resources sector the confidence to continuing investing, exporting and employing across Queensland.
"In Queensland, coal, minerals and LNG accounts for 78 percent of the State's exports," Mr Macfarlance said. "The sector supports one in every eight jobs – with 38,000 direct employees and more than 280,000 full-time equivalent jobs dependent on resources.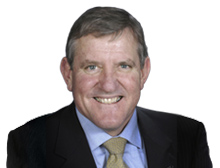 "The Federal Budget is based on tax cuts and jobs growth. The Budget papers show the resources sector pay more and more taxes and employ more and more Australians.
"The 2018-19 Federal Budget has forecast growth in mining exports of 4 percent in 2017-18 and 6.5 percent in 2018-19, while mining industry capital expenditure is expected to grow by 3.5 percent in 2019-20," Mr Macfarlane said.
"The Federal Budget also is expecting an extra $3.7 billion in taxes over the next four years based on improved mining profitability on the back of higher commodity prices."
Mr Macfarlane said Federal Budget initiatives to promote science, technology, engineering and mathematics (STEM) and develop satellite technology were positive investments for the future of the resources sector.
Specifically, the Turnbull Government is investing over $260 million to develop the satellite technology which will help the resources sector benefit manage mine infrastructure, mine safety and use more precise data for on the mine site, Mr Macfarlance said.
ends