Federal Budget offers 'retail therapy' says ARA
BUDGET 2018 >> THE Australian Retailers Association (ARA) believe this year's Federal Budget brings some much needed relief for retailers struggling in a volatile market with low growth and increased cost pressures with the promise of personal tax cuts which will drive consumer spend.
An ARA statement claimed the Budget brought "some positive news for retailers" with highlights including the GST being applied to overseas purchases from July 1, infrastructure spend and personal income tax cuts to low and middle income earners, allowing consumers to increase their spending across the sector.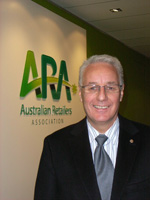 ARA executive director Russell Zimmerman said the Budget measures proved the government was committed to implementing tax cuts but believes these cuts should include all tax brackets, and are needed earlier and faster to drive consumer discretional spending.
"With this morning's March retail trade figures showing a 3.15 percent trade growth year-on-year, retailers are still expecting the company tax rate to be lowered to sustain growth in the market and overall economy," Mr Zimmerman said.
The positive outcomes from the Budget included the government's commitment and investment into the Black Economy Taskforce and their implementation of the Illicit Tobacco Taskforce, to combat the illicit tobacco market.
"The ARA welcome the findings from the Black Economy Report and welcome the measures the Government has announced tonight as these initiatives will create a fairer economy for retailers," Mr Zimmerman said.
"Funding is a great first step to tackling the Black Market as the rise in illicit tobacco consumption has severely affected local retailers and their bottom line."
The ARA also welcomed the government's $75 billion infrastructure investment to metro and regional areas to increase efficiency, freight, tourism and consumer access.
"Retailers are looking forward to major infrastructure projects such as the Melbourne airport rail link, Sydney's rail freight corridor and Hobart's new river crossing being implemented and completed as these long-awaited developments will increase consumer access and retail growth," Mr Zimmerman said.
"Although we welcome the Treasurer's predicted Budget surplus and fall in net debt, the ARA calls on the Government to develop a real plan to put Australia back on a track to zero debt and long-term lower taxes to ensure the longevity of Australian retail."
About the Australian Retailers Association
Founded in 1903, the Australian Retailers Association (ARA) is Australia's largest retail association, representing the country's $310 billion sector, which employs more than 1.2 million people. As Australia's leading retail peak industry body, the ARA is a strong pro-active advocate for Australian retail and works to ensure retail success by informing, protecting, advocating, educating and saving money for its 7,500 independent and national retail members throughout Australia.
www.retail.org.au or call 1300 368 041
ends