Technology, innovation, e-commerce highlight at Vodafone National Small Business Summit
THE Council of Small Business of Australia (COSBOA)'s Vodafone National Small Business Summit brought together key players who represent thousands of small businesses and individuals who shape policy in Australia. It began on July 7 at the Brisbane Hilton Hotel.
Those representing the small business community, including the Australian Hairdressing Council and Master Grocers Australia, heard from thought leaders who addressed some of the key issues that are affecting small business now.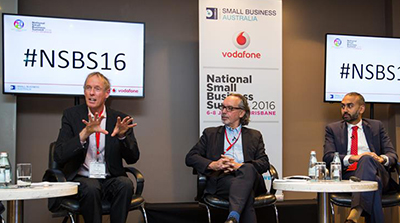 The summit addressed how policy makers and the government can provide solutions, resources and legislation that will influence small business growth in Australia.
The first day's discussions included Brexit, small business innovation, ecommerce and technology, and the mental health of the small business owner.
Kicking-off the Summit, Peter Munckton, the Chief Economist for Bank of Queensland, discussed the impact of Brexit across the globe, Australia and small business.
He said, naturally, Brexit will have a significant impact on UK business, especially those who have offices in other parts of Europe. They will now have to deal with different legislations across country boundaries in the same way that Australian businesses have to work in Europe.
On Australia, he said, "On the whole Australia is doing well, but it could be doing better," and his data revealed the general public's biggest concern was job security. On the whole he said the direct consequences of Brexit should be manageable for small business in Australia.
The presentation was then followed by a Q&A session: Who are the Innovators? with Andrew Chanmugam, general manager of Businessat Vodafone Australia, Robert Gerrish founder of Flying Solo and Kim Houghton, general manager of policy and research at Regional Australia Institute.
The trio took questions from the floor about the importance of small businesses being innovative. Vodafone Australia's Mr Chanmugan commented that the way we use technology has changed significantly over the last 20 years and for small businesses to be innovative, they must become more operationally agile, better connected to employees and better engaged with customers.
Vodafone wants to enable small business through technology, app partners and offerings so they can become what the carrier call a Ready Business.
Robert Gerrish added that innovation assists with a work-life balance for small business and can create business efficiency via systems such as online training and remote working.

However, Kim Hougton interpreted the question 'who are the innovators?' a little differently and asked 'where are the innovators?' He praised Vodafone for its actions connecting regional Australia, which will aid competition in the market place as they become better connected.
Mr Houghton hopes that technical innovation will bring together communities too, encouraging them to do business with their neighbours rather than looking further afield.
"This network is strong in the cities, but not outside of them," he said.
Australian Securities and Investment Commission (ASIC)'s Commissioner, Greg Tanzer, provided a regulator update, specifically for small business and also echoed the statements made in the 'who are the innovators' session, that ASIC has the systems in place to make business operations seamless via an online platform, which will be launched later in the year.
The theme of online business continued at the Summit with Ben Laurie, from American Express, Michael Cooley, from Google Australia, and Emma Dobson, from the Digital Business Council discussing eCommerce and Small Business.
All agreed that the growth of the National Broadband Network was a great opportunity for small businesses, both regionally and city-based, and that doing efficient business online is key for future success. The importance of ensuring your website is mobile ready cannot be underestimated, especially given that individuals now look at smart phones at least 150 times a day.
The afternoon saw Sandy Chong, CEO of the Hairdressing Council of Australia and Mark McKenzie, from ACAPMA lead a session called 'Vent on VET.' The duo voiced their concerns with the current VET program and how it is not meeting the needs of the industry, especially small businesses owners.
Talking about the current system, Sandy Chong said, "We have to pay a 21 year old, who is training almost the same amount of money as a qualified stylist and there are salons out there that can't afford to do that, which leads to less apprentices being taken on.
"We have an industry of unemployable qualified hairdressers based on our education and training system and small business has lost confidence in VET. Apprentices need to have skills: knowledge and experience before deemed qualified," Ms Chong said.
The Vodafone National Small Business Summit continues on Friday July 8
www.nationalsmallbusinesssummit.com.au

Hashtag: #NSBS16
ends