Research opens up greener pastures
CSIRO research on future agriculture prospects across Australia's north is underpinning early action in the region.
The CSIRO reports are being used to help drive investment in Northern Australia agricultural development, at events such as the Northern Australia Food Futures conference in Darwin on April 12, attracting more than 300 industry and government representatives. 
Northern Australia, comprising 40 percent of Australia's land mass, is already the world's fifth largest beef and sugar exporter, with 12 million cattle and 3000 sugar farms bringing in more than $3 billion each year.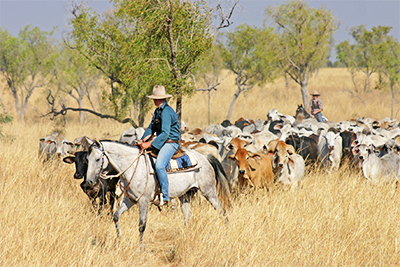 According to the CSIRO, this represents a only fraction of the region's agricultural potential.
"With its highly variable landmass and four distinct climatic zones, northern Australia can support all sorts of agriculture and horticulture," CSIRO research director Peter Stone said.
Dr Stone said following the release of the Federal Government's Developing Northern Australia and Agricultural Productivity White Papers in June last year, CSIRO has been focussed on unlocking the potential of the area that stretches from the Pilbara to Rockhampton.
"More than 100 researchers are currently supporting the Australian Government to deliver on these commitments – looking at opportunities to innovate along the entire value chain, from the soil and water availability through to expanding market opportunities," Dr Stone said.
The Northern Territory Farmers Association convened the Darwin conference, featuring expert panellists discussing topics such as regional and global investment, crop production and supply chains.
CSIRO chief research scientist Andrew Ash said a number of opportunities had stimulated renewed interest in agricultural development for Northern Australia.
"These include proximity to Asian markets, increasing global demand for food and natural fibre as well as the development of economically sustainable regional communities," Dr Ash said.
"Understanding the agronomic opportunities and constraints in conjunction with development and operating costs and market drivers is crucial for northern Australia's developing irrigated agriculture sector to be competitive and profitable."
Dr Ash and his team are currently investigating development opportunities for irrigated agriculture in the region including sugarcane, cotton, peanuts and grains.
The inaugural Northern Australia Food Futures Conference was staged in 2014.
ends