Townsville backs Galilee Basin development
TOWNSVILLE Enterprise is loudly backing several major projects the city claims are "critical to the future of Northern Australia" including the Carmichael Coal Mine and rail system.
Townsville Enterprise chief executive officer Patricia O'Callaghan said at last year's Northern Australia Forum in Darwin that the "current opportunities for the North are unprecedented".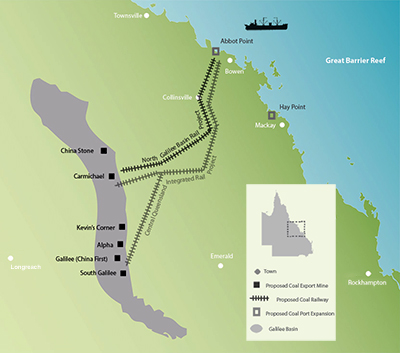 At two events – the Northern Economic Summit in Cairns and at the Northern Australia Forum – Townsville Enterprise highlighted projects ready to go that would "create jobs this region needs, attract additional investment and provide the critical road, rail and water infrastructure that will move the Townsville North Queensland region forward".
"But while we are trying to get a number of projects off the ground there is one project that is ready to go and has the potential to be a game changer for not only this region but also the entire country," Ms O'Callaghan  said.
The Indian mining and industrial conglomerate Adani's drive to open up its resources  holdings in the Galilee Basin near Townsville are the foundation for much greater sustainable growth, Ms O'Callaghan said – and legal and official delays to its commencement were hurting the region.
"The most recent attempt by another environmental group to stall the project is extremely disheartening," she said.
"This will be the largest project this region has seen for decades and stands to deliver thousands of vital jobs for Townsville and the region as well as $22 billion in taxes and royalties to the State.
"This is not just about one project, this is about opening up the Galilee Basin, creating economic infrastructure and cementing our reputation as an investment destination. We can't do that if legal loopholes continue to stall game changing projects.
"Coal equates to 75 percent of Queensland's electricity supply and is Australia's second largest export commodity – the benefits of this project are ten-fold.
"We are a democratic society and we applaud the ability for all stakeholders to have a say in major projects but there comes a time when a firm decision needs to be made. There needs to be a process in place whereby once an Environmental Impact Statement has been signed off by the Environment Minister it cannot be challenged.
"Australia has the most comprehensive environmental protections and regulations in the world and we need to let investors like Adani meet those requirements and then proceed. We cannot afford these continual delays – we need action."
Northern Australia Alliance spokesperson Trent Twomey said the Carmichael project was vital to the development of Northern Australia.
"We cannot underestimate the significance of this project and what we stand to lose if we don't get this right," Mr Twomey said.
"The Northern Australia Alliance has been established and we've spent the best part of a week working towards the development of Northern Australia – that work will go to waste if Green groups continue to attempt to stall projects like this one.
"We are talking about thousands of jobs and the livelihoods of people across Northern Australia.
"The development of Northern Australia depends on projects like this one and if we are serious about developing the North we need to get this project off the ground or we risk losing our reputation as a solid investment destination."
ends