Religious discrimination Bill a potential minefield for sponsors like Qantas
Religious discrimination Bill a potential minefield for sponsors like Qantas
INSTITUTE of Certified Management Accountants (ICMA) CEO Janek Ratnatunga is urging Australian finance professionals to pay close attention to the Australian Government's draft Religious Discrimination Bill – and particular attention to what is being called the 'Folau Clause'.
Professor Ratnatunga said the Folau Clause relates to the case of sacked top-level Australian rugby union player Israel Folau, whose comments on his private social media account, based on his religious beliefs, led to the termination of his contract with Rugby Australia.
Under the Folau Clause, additional requirements will be imposed upon businesses with annual revenue of at least $50 million when it comes to standards of dress, appearance or behaviour that limit religious expression.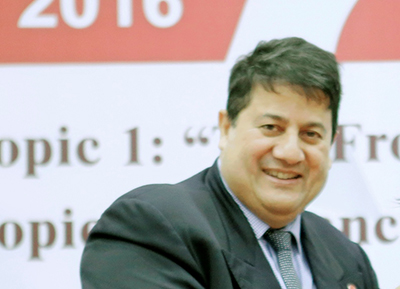 The Bill states that such restrictions must be shown to be necessary to "avoid unjustifiable financial hardship on the business". The process of calculating potential financial hardship will fall on financial professionals, particularly management accountants.

Prof. Ratnatunga said, "The application of the 'Folau Clause' means organisations will have to prove that their social media rules relating to religious expression, and subsequent actions taken, are in place to protect their brand.
"However, as the impact of individual social media activity on brand reputation is impossible to quantify, the draft bill instead defines the impact on the brand in financial terms, i.e. as causing 'unjustifiable financial hardship on the business'."

In the case of Rugby Australia, Prof. Ratnatunga said, its primary revenue is derived from ticket sales, broadcast rights, government grants and sponsorships.
"The revenue source that has garnered the most attention for potentially unjustifiable financial impact is corporate sponsorship, which accounts for 22 percent of Rugby Australia's total income," Prof. Ratnatunga said. "Rugby Australia's major sponsor, Qantas, clearly has to distance itself from the Folau case, as it may be considered an accessory to any breach and become a target for legal action if Rugby Australia is found guilty of wrongful dismissal."

Prof. Ratnatunga believes this poses a conundrum for sponsors like Qantas.
"For example, if the Folau case arose after the Bill was passed in its current form, Rugby Australia would have to prove that Qantas was going to discontinue sponsorship, thereby demonstrating 'financial hardship'. At the same time, Qantas would have to reject any such claim, or face the consequences of Mr Folau winning his case and citing them as an accessory to any breach."

WARNINGS FOR SPORT, UNIVERSITIES
Prof. Ratnatunga warned, if the Bill passes, corporates will need to be extremely careful of sponsorship agreements. This would also be true of organisations such as universities, which have been the subject of much debate regarding external sponsors and their influence on free speech.

Prof. Ratnatunga provided a hypothetical example of a University of Melbourne academic posting a private social media comment that is "very supportive of the Dalai Lama returning to Tibet and rejuvenating Buddhism there". If this led to the possibility of losing sponsorship from the Confucius Institute, would Melbourne University be justified in terminating that academic's contract under the Folau Clause?

Prof. Ratnatunga said, "Again, what if an academic in a university that is sponsored by the Ramsay Centre for Western Civilisation posted the following comment on social media: 'The only thing Western civilisation has done is spread Christianity with the gun.? Would the university be justified in terminating that academic's contract under the Folau Clause?"

Prof. Ratnatunga posed a final question: "Should corporates offer their views on social issues unrelated to their core businesses?
"Corporates are justified in ending sponsorship deals with individuals and other organisations for bad behaviour, sexual discrimination and the like, both publicly and privately, but threatening to end sponsorship agreements as a result of religious comments posted on private social media accounts by employees or other contractors on religious issues that have little or no relation to their core business is another matter," he said.
ends