OCTOBER has been declared National Indigenous Business Month throughout Australia.
The move came out of a meeting of Indigenous entrepreneurs who took part in the MURRA Indigenous Business Masterclass program at Melbourne Business School (MBS) earlier this year.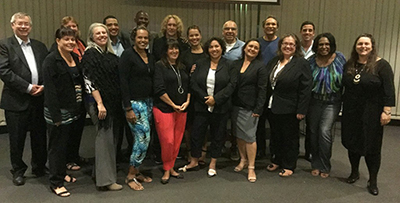 The Indigenous Business Month initiative is driven by MURRA alumni who see business as a way of providing positive role models for young Indigenous Australians.
"We want kids to see that their future lies not just in arts and sport," MURRA program director and associate professor Michelle Evans said.
"Business also requires creativity and provides a path to community growth and individual aspirations."
The group of MURRA alumni decided the best way they could promote the cause would be to showcase Indigenous businesses countrywide, launching the October National Indigenous Business Month and finding the backing for it.
"Indigenous businesses have a great story to tell," the MURRA alumni said in a joint statement. They said they were "tired of the image of Indigenous communities. It's not who we are. We contribute so much and have the capacity to do so much more, not just for our community but also the wider community."
The month features a series of events across Australia including the Sydney launch breakfast on October 1; a Brisbane networking breakfast on October 8; IndigIdeas Pitchfest on October 9 in Melbourne; Melbourne networking breakfast on October 16; and the Canberra networking breakfast on October 22.
There is also a virtual event with Prof. Ian Williamson and associate Prof. Michelle Evans showcasing research in Indigenous leadership on October 29.
The Indigenous Business Month aims to have Indigenous businesses leading the conversation around Indigenous business development.
"It will showcase the variety, depth and skill of the Indigenous business sector and to break down stereotypes," a MURRI alumni spokesperson said.
"Most of all, it aims to encourage young Indigenous people to think of developing business as a career".
The month is being supported by Indigenous Business Australia, 33 Creative, Asia Pacific Social Impact Centre at MBS, PwC's Indigenous Consulting, the City of Sydney, Commonwealth Bank and MURRA alumni.
www.indigenousbusinessmonth.com.au
ends