MAINIE Australia, the fashion and giftwear company that builds its styles utilising authentic Aboriginal art works, has introduced its first collection for men.
Mainie's founding director and designer, Charmaine Saunders said it was only a matter of time before Mainie released a collection for men that would complement the popular women's range of wearable art spanning scarves, versatile tops and sarongs. The men's collection ranges across pure silk neck ties, bow ties and suit pocket squares in a range of five authentic Indigenous artworks.
"There has always been a strong demand for Mainie to release its own range for men that would tick both boxes of fashion accessory and giftwear," Ms Saunders said.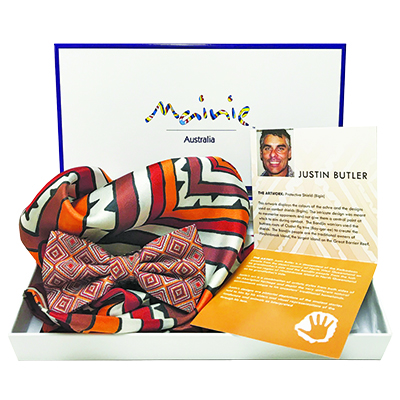 "With our brand now established and featured in retail outlets in both Cairns and throughout Australia, the timing is now right to add a men's collection," she said.
According to Ms Saunders, Mainie's neck tie and bow tie boxed sets include "this season's must-have accessory for men – a matching pocket square which is generously sized at 34cm x 34cm with a hand rolled hem".
The silk prints are patterned after the natural environment of the artists' homes. Designs span versatile earthy neutral and vibrant reef-inspired colour palettes in five unique artworks – two from NAIDOC Artist of the Year, Elverina Johnson from Yarrabah (Seahorses and Mangrove Life) and three from Queensland artist, Justin Butler (Snake Tracks, Protective Shield and Falling Leaves).
Mainie's bow tie and pocket square sets retail for $100 each while the neck tie and pocket square sets retail for $110 each. All designs feature a matching ladies silk twill or silk chiffon scarf.
Ms Saunders created Mainie as an Aboriginal owned, ethical, fair-trade brand. Royalties from each sale are returned to the Warlpiri artists of the Tanami Desert in Central Australia and Dirringhi Arts in Yarrabah, North Queensland.
Ms Saunders first developed extensive and popular women's collections in a mix she has described as the "special melding of two ancient cultures – where the Dreamtime meets the Silk Road".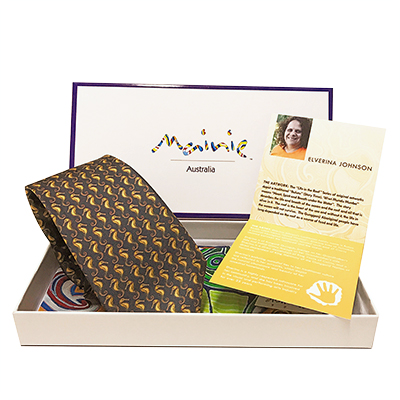 Authentic Aboriginal designs are by traditional artists from Central Australia's remote Tanami Desert region. The silks used are from artisan silk-makers from "the fabled Silk Cities of China".
"The original artworks featured in Mainie's designs are based on ancient, ancestral stories and sacred ceremonial customs which have been passed down through many generations of Warlpiri women over thousands of years," she said. "The rich and vibrant hues used by the artists perfectly reflect the awe-inspiring beauty of their desert homelands in the Australian Outback."
Ms Saunders's method is to present the collections as 'collectibles'.
Mainie's silk pieces are stylishly boxed with artwork authentication, artist biographies as well as each artwork's Dreamtime Story in English, Chinese and Japanese.
ends