Barayamal Network launches to help Indigenous entrepreneurs collaborate
INDIGENOUS BUSINESS accelerator Barayamal has launched the Barayamal Network as an online destination where Indigenous entrepreneurs can collaborate, network and receive mentoring.
"The Barayamal Network closed group recently launched on Facebook and now has over 800 members," Barayamal founder and CEO Dean Foley said.
He described Barayamal Network as a forum for Indigenous entrepreneurs, business owners and professionals who are passionate about growing the Indigenous economy to engage with others, exchange ideas, discuss issues relevant to the industry, connect with other Indigenous entrepreneurs and receive mentoring from industry experts.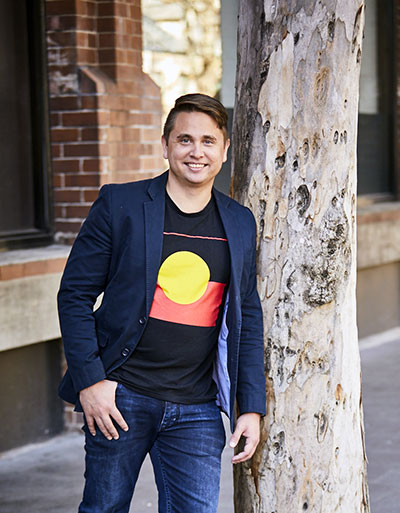 The group wants to create a place where everyone from the Indigenous community and non-Indigenous supporters can collaborate "to build a stronger Indigenous economy that will benefit all in Australia," he said.
The group will also allow people to share the latest events, news and offers to increase collaboration between members.\
"The group officially launched in April and has quickly grown to 800 members, which includes successful Indigenous entrepreneurs, technologists and community members who want to help each other and grow the Indigenous economy to create more opportunities in our communities that will help close the disparity gap through economic development," Mr Foley said.
"It's an exciting opportunity for the Indigenous community to collaborate and work together to create a better Australia for everyone."
Mr Foley said in 2016 there were over 11,538 Indigenous business owner-managers in Australia, rising from 8,891 in 2011 – a 29.8 percent increase.
"The future of the Indigenous economy is rapidly growing despite lagging behind other Indigenous economies," he said.
"For example, the New Zealand Ministry of Business, Innovation and Employment figures estimate Māori assets are worth $42.6 billion — a 15.4 percent increase from 2010.
"The Barayamal team is seeking support from Australian political parties, philanthropists and entrepreneurs to help drive real change that will support Indigenous Australians to achieve their self-determination aspirations.
"In our opinion, Indigenous entrepreneurship and economic development is the high growth solution that will help close the gap," Mr Foley said.
For example, Barayamal recently ran a poll in the Barayamal Network that showed a growing need for funding and government policy accountability – such as the Indigenous Procurement Policy (IPP).
"Members from the Barayamal Network want to see a greater impact in Indigenous communities from the social procurement policy/contracts instead of a few Indigenous entrepreneurs and their non-Indigenous partners cashing in on the policy that aims to help close the disparity gap," Mr Foley said.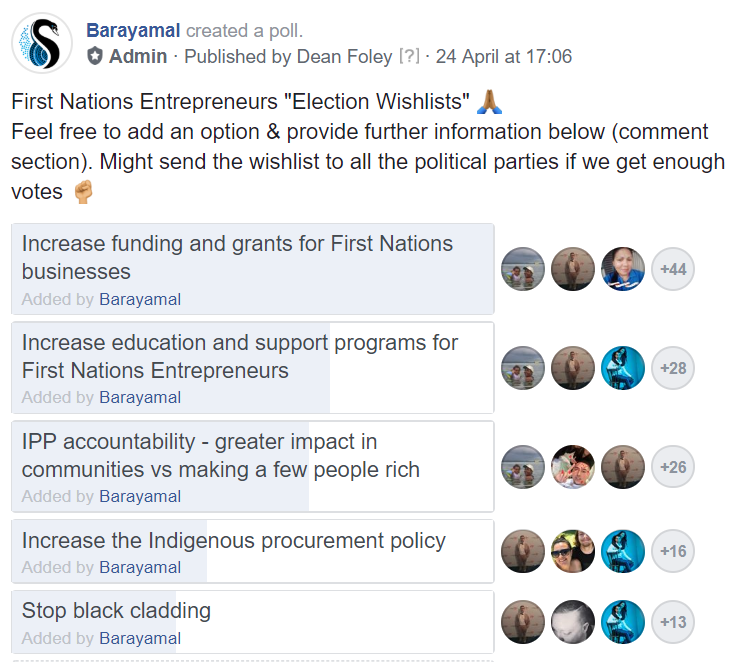 "I think the Federal Election will provide an exciting opportunity for the new Minister for Indigenous Affairs to make a real difference, instead of developing tokenism policies and spending a ton of taxpayer money that has done little to drive real change and actually help Close the Gap between Indigenous and non-Indigenous Australians."
Mr Foley founded Barayamal, Australia's first Indigenous business accelerator, in November 2016. Since then the organisation has established many valuable programs, from the CoderDojo First Nations coding clubs to its Budding Entrepreneurs Program, supporting Indigenous business innovators to develop their ideas and take them to market.
https://www.facebook.com/groups/barayamalnetwork
ends