Record breaking Cairns Indigenous Art Fair
THE ninth annual Cairns Indigenous Art Fair (CIAF) recorded 'record-breaking' success last year and more growth is expected at the July 12-14 event this year.
CIAF general manager Vanessa Gillen said that while attendance and participation were important benchmarks, it was the commercial outcomes generated by the Art Fair, Art Market and satellite exhibitions that were fundamental, supporting the artists and art centres that produce the work.
"In our nine-year history we are proud to have generated $6.7 million in art sales which has been returned to the artistic community to further their practice," Ms Gillen said.
"Added to this is the fact each year several works are acquired by curators to join the collections of museums, art galleries and institutions both at home and overseas.
"CIAF has become a source of quality art work for both curators and collectors and this is heartening because it underpins the quality, diversity and depth of Queensland's Indigenous art movement while taking it to global audience," Ms Gillen said.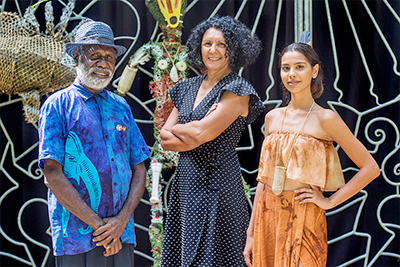 In 2018 sales from CIAF's Art Fair and Art Market reached $665,715 – compared with last year's $589,182 – while takings from art sold at satellite exhibitions also increased from last year's figure of $34,562 to $53,917.
"Considering associated revenue including sales from ticketed events, this year's overall result of $887,000 is an increase of 15 percent compared against last year's result of $763,000," Ms Gillen said.
After almost a week of events, CIAF 2018 had attracted an overall audience of more than 45,000 – on par with previous years.
State Minister for the Arts, Leeanne Enoch, congratulated CIAF on another successful celebration of Queensland's First Nation's artists and performers, helping to strengthen the region's network of Indigenous art centres, and expand artistic opportunities.
"The Queensland Government has supported CIAF since its inception in 2009 as part of the landmark Backing Indigenous Arts initiative to build a sustainable arts industry with a global focus," Ms Enoch said.
"This longstanding investment recognises the unique art of Far North Queensland as a powerful expression of culture which fuels CIAF's ongoing success as a signature cultural tourism event and as an important economic driver for the region."
CIAF's artistic director Janina Harding said the feedback from this year's event had been outstanding and there was high praise for the program comprising six curated exhibitions including the Art Fair's Connection to Country, three-day art market, workshops, about 50 individual dance and music acts, talks and conversations, theatre, fashion, food and the presentation of six CIAF Art Awards with winners sharing in a prize cache of $50,000.
"The word 'art' to Aboriginal and Torres Strait Islander people is a complex story of creative expression and cultural sharing and in this year's program we showcased some 300 visual artists and 230 performers," Ms Harding said.
"When people buy art, it is not just about how the piece looks – be it woven, carved or hand fired sculptures, lino prints on paper or acrylics on canvas – it is the story behind the work that means the most to buyers.
"CIAF is about shining a light on the Aboriginal and Torres Strait Islander life experience and celebrating our distinct cultures while elevating the community's appreciation of Queensland's First Peoples' art movement," Ms Harding said.
The success of this year's fair was topped off with satellite events including CIAF's annual fashion performance Bulmba-barra, JUTE Theatre Company's theatre production, Bukal, Screen Australia's Pitchas After Dark short film screening and Miriki Performing Arts' collaboration with the POMO Nation of Northern California in Bayal Kaymanen (Dancing Smoke).
State Minister for Tourism Industry Development, Kate Jones said with record sales at this year's CIAF more attendees than ever had taken home a piece of Indigenous art.
"CIAF gives Queensland Indigenous artists a platform to showcase their talents, while attendees experience authentic and memorable Aboriginal and Torres Strait Island culture," Ms Jones said.
"Attracting tens of thousands of spectators each year to Tropical North Queensland, this event supports local jobs, strengthens community pride and promotes tourism in the region, which is worth $2.8 billion to the local economy.
"CIAF is one of many community events supported by the Palaszczuk Government via Tourism and Events Queensland and features on the state's It's Live! In Queensland calendar, worth $780 million to the economy."
ends