Indigenous business helped by entrepreneurs capital scheme
SIGNIFICANT changes to Indigenous Business Australia (IBA) – including a new Indigenous Entrepreneurs Capital Scheme – are aimed at supporting a wider range of Indigenous businesses at various stages.
The Federal Government announced in May it was "reforming Indigenous Business Australia". Already, Indigenous business participation has been raised in certain projects, such as the Townsville Stadium, and the new procurement policy has seen extraordinary growth in contracts awarded to 708 Indigenous businesses over the past 18 months.
Indigenous Affairs Minister Nigel Scullion released the Indigenous Business Sector Strategy Consultation Paper at Supply Nation's Connect Conference in Sydney on May 3. He said the government was committed to "co-designing the reforms with the Indigenous business sector".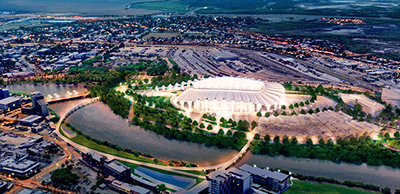 Mr Scullion said the Federal Government had committed to an Indigenous Entrepreneurs Package that included developing the Indigenous Business Sector Strategy road map for growing the Indigenous business.
He said the paper released at the conference, for stakeholder consultation, drew from feedback from Indigenous businesses, entrepreneurs and the financial sector in consultations held around the country since the Coalition was re-elected in 2016.
"The Indigenous Business Sector Strategy is particularly timely because of the significant increase in demand that our policies have created for the products and services provided by Indigenous businesses," Mr Scullion said.
"The Indigenous Procurement Policy has been a game-changer for the sector and over its first 18 months, 708 Indigenous businesses have won more than $407 million in contracts – an extraordinary jump on the $6.2 million they were awarded in 2012-13.
"We are now extending its principles to infrastructure projects like Northern Australia roads investment and the City Deals. The Townsville Stadium to be built under the first City Deal will include targets of 6.6 percent for Indigenous jobs and procurement."
Mr Scullion said the suite of new initiatives would help grow the Indigenous business sector and keep up with demand.
"Many Indigenous businesses have told us they want assistance to access private sector finance products with all of the sophisticated infrastructure and networks that come with being part of the mainstream financial system," Mr Scullion said.
"To facilitate this, we are looking to establish an Indigenous Entrepreneurs Capital Scheme that will work with Indigenous businesses that cannot access mainstream finance to connect them to a bank or financial institution, and de-risk the loan if needed.
"We are also looking to ramp up the support services available to Indigenous businesses including through business hubs, mentoring and back-office support – and we are seeking the views of Indigenous businesses about what kind of services they want."
Mr Scullion announced significant changes to IBA to focus the organisation on helping start-ups and Indigenous entrepreneurs who need intensive support or tailored products that financial institutions will not provide.
"From July 1, 2017, we will be changing IBA's funding arrangements to focus it on supporting entrepreneurs who have low intergenerational wealth and need greater support," Mr Scullion said.
"These initiatives are on top of the $90 million Indigenous Entrepreneurs Fund that the Coalition has committed to to help remote and regional Indigenous businesses get a foot in the game."
Indigenous business leader, Warren Mundine, welcomed the reforms.
"In order to continue the success of the Indigenous Procurement Policy and other initiatives that are driving demand for Indigenous businesses, we need to increase the number of Indigenous-owned businesses that have the capacity and access to finance necessary to perform the work," Mr Mundine said.
ends