Broncos score a $5m bonus to help Indigenous girls
ANOTHER $5 million pledge from the Federal Government will add 1000 places in the Beyond the Broncos Girls Academy for Indigenous girls across northern New South Wales and southern and western Queensland.
The program, fronted by the Brisbane Broncos NRL club, aims to mentor and encourage Aboriginal and Torres Strait girls and offer them career and educational pathways that have not been available before.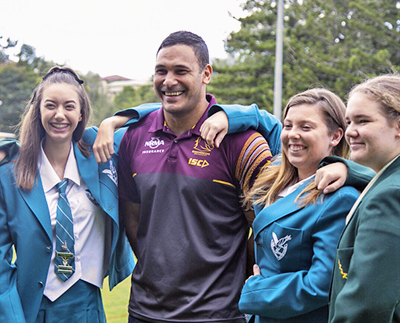 Brisbane Broncos chief executive officer, Paul White, said the announcement by Federal Indigenous affairs Minister Paul Scullion was "a wonderful affirmation of the Beyond the Broncos Girls Academy program".
"The club is very proud of the work the program is doing to empower young women both academically and in their general lives, and is looking forward to partnering with the government to exponentially expand those opportunities," Mr White said.
Mr Scullion, said the funding would also provide continued support for the existing 300 places in the program.
"The Beyond the Broncos Girls Academy is a great program that provides Aboriginal and Torres Strait Islander girls with an opportunity to be mentored and encourages increased school attendance while building leadership skills and developing career pathways to further education and employment," Mr Scullion said. 
"Investing in the future of women and girls has a significant benefit not only to them as individuals but also for their family and broader community. 
"This program is a great example of how the Coalition Government is delivering on its commitment to improve outcomes for Aboriginal and Torres Strait Islander women."
Federal Member for Brisbane, Trevor Evans, said he was proud to represent a sporting club that provided so much to the community.
"The Broncos have a strong history of giving back to the people that have supported and barracked for them, and the Beyond the Broncos Girls Academy is just one of many important programmes they run," Mr Evans said.
ends