Trade Ledger wins Ashurst FinTech Startup of the Year
DIGITAL banking platform start-up, Trade Ledger, was named the Ashurst Fintech Start-up of the Year for 2018 after expanding into the UK market and signing up a series of major deals in its first year.
The award goes each year to an Australian financial technology (fintech) start-up 'that has disrupted the financial services sector with new and innovative services, creating competition and transforming the way we experience financial services'.
Trade Ledger has managed this by being the first corporate lending platform in the world to automate the entire credit assessment process, assess SME supply chain data in real-time, and calculate risk – down to the individual invoice.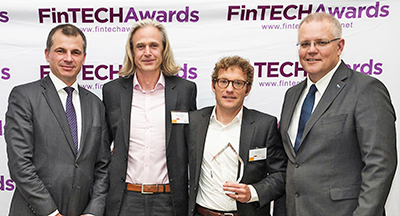 This allows banks and other business lenders to tap into the A$90 billion of unmet business credit demand in Australia, and US$2.1 trillion globally.
"As the global economy transitions towards smaller, high-growth businesses – our all-important start-up and innovation ecosystem – business lenders have an obligation to learn how to supply working capital desperately needed by these businesses of the future," Trade Ledger CEO and co-founder Martin McCann said.
"Australian banks and business lenders also face risks on several fronts. On the one hand, they need to improve both their cost/income ratio and their capital efficiencies within this segment that is traditionally considered as high risk.
"On the other, they are facing increased competition from technology behemoths such as Amazon, Tencent, and eBay, who are all threatening to use their hordes of data to enter financial services.
"The Trade Ledger platform equips these lenders with the same degree of technological proficiency as these massive tech firms, while arming them with the tools needed to meet our booming innovation ecosystem's need for credit," Mr McCann said.
This is the third year of the FinTech Awards. The awards owner, Glen Frost, said he was particularly impressed with both the quality and quantity of this year's applications.
"The 3rd Annual FinTech Awards recognise and reward the innovators and the risk takers," Mr Frost said. "To be recognised by your peers for your innovation and entrepreneurial spirit will sustain you through the tough times, it will motivate you, and it will show your customers, investors and staff, that you've got what it takes.
"I congratulate Martin McCann, and his team at Trade Ledger, on winning the Ashurst FinTech Startup of the Year."
ends