The post-coronavirus future: live streaming from QODE Brisbane conference
WORLD-RENOWNED global futurist, Roey Tzezana, will today speak at QODE, a Brisbane-based virtual conference broadcast on YouTube, discussing the impact of coronavirus on the world.
Dr Tzezana is a futurist and foresight expert who lives in the United States. He uses data to predict global events and has appeared on radio and television networks around the world discussing the future of technology and society.
Dr Tzezana will be conducting a keynote presentation at the virtual QODE Brisbane conference titled Global Impact of Coronavirus which will be streamed live on YouTube.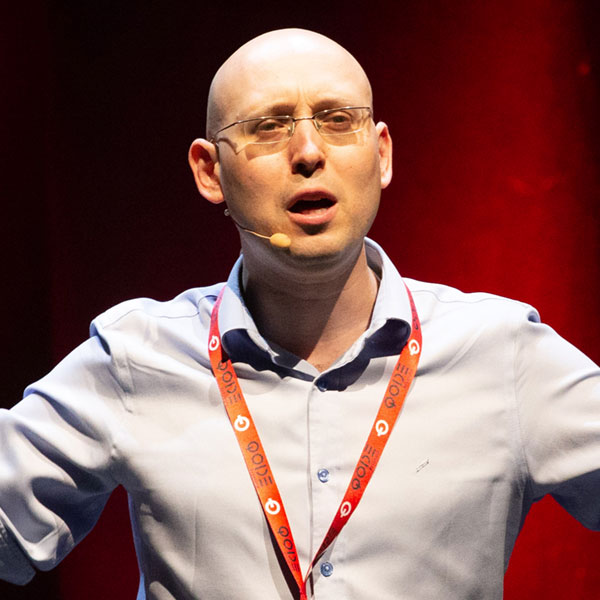 With physical gatherings now banned in Australia, the organisers behind a Brisbane technology conference partnered with YouTube to stream the conference live, and in what's believed to be an Australian-first, attendees will be able to visit exhibitor booths using virtual reality.
With more than 4000 people having been expected to attend the conference yesterday and today, QODE Brisbane was quick to team up with the world's best-known video site, taking the event to the global stage.
QODE's focus is the future of technology, and chief QODE officer Jackie Taranto said they've also teamed up with a Brisbane VR company, Visitor Vision, to offer a new way for people to view the conference exhibits.
"One of the key reasons people attend conferences is to visit the exhibitor booths to gain further insight into the products and information available, and for those exhibiting, it's a really important way to access that market," Ms Taranto said.
"We wanted to ensure attendees could still have that experience, and now they can. Using virtual reality, they can walk through the exhibitor booths as though they're at the convention centre and can even jump on a call to chat with the exhibitor as they would face-to-face."
As a result of the program being online, the exhibitor can access information about who has visited the booth, the company they're from and if they're interested in chatting further, which is often more information than they might be able to gain about a potential customer in a traditional expo setting.
Queensland Innovation Minister Kate Jones said moving the event online was in the best interests of all Queenslanders.
"No one can think outside the box quite like an entrepreneur or a small business person," Ms Jones said. "The organisers of QODE have been clear – the show must go on. Or in this case, go online. In the true spirit of this event, rather than cancelling the festival, they're taking the entire program online.
"This festival is about showcasing our best and brightest to the world. What better way to achieve that, than by sending the world a message – we have the resilience and the brains to keep this show on the road."
Brisbane Lord Mayor Adrian Schrinner said it was fitting that a technology-based solution would see QODE Brisbane proceed.
"These extraordinary circumstances call for innovative solutions and what better way to ensure this important global event goes ahead than by embracing the latest technology," Cr Schrinner said.
"While it is unfortunate that thousands of world-leading experts and delegates will not experience our great city at this time, I am pleased that Brisbane will still facilitate discussions on the technology trends and issues shaping the way we live and work."
Speakers from the US and Israel are among those taking part in the virtual event, while some local speakers include Nine CEO Hugh Marks and Queensland Chief Scientist Paul Bertsch. QODE is supported by the Queensland Government through Tourism and Events Queensland and the City of Brisbane. All those who originally purchased a ticket to attend the event in person will be refunded.
The live-stream YouTube link is here.
ends