Recon Solutions tallies strong business plus community service growth
JUST ONE YEAR after Recon Solutions' 50 percent acquisition by People Infrastructure (PI), the recruitment company is increasingly dominating in the ICT recruitment sector – and since the purchase, PI shares have more than doubled, from $1 to $2.30.
Leading up to the acquisition, Recon Solutions consistently achieved 200 percent year-on-year growth over its six-year history. Recon was also recognised as the 12th fastest growing company by BRW magazine in 2016 and was awarded Growth Company of the Year at the annual Recruitment International Awards in 2017.
In recent years, the Recon brand has become renowned for its support of worthy sporting and community causes.
Director and CEO, Steve Scanlan, attributed Recon's achievements to the company's hunger to keep improving, as well as its robust culture.
"We're driven by relationships, not transactions, and our focus is on openness and honesty in business," Mr Scanlan said. "This is relevant more than ever now that we're accountable to shareholders in addition to our clients."
Recon Solutions is also making a name for itself as a good corporate citizen, supporting and sponsoring numerous worthy causes.
Perhaps most notably, Recon is now the major sponsor of Tonga National Rugby League. The investment has helped propel the national team, Mate Ma'a Tonga, to new heights and a level of professionalism which sees them ranked fourth in the world, and set to play Tier One nations in 2019.
It was further announced this week that Mate Ma'a Tonga is top seeded alongside England, Australia and New Zealand in the revamped 2021 World Cup.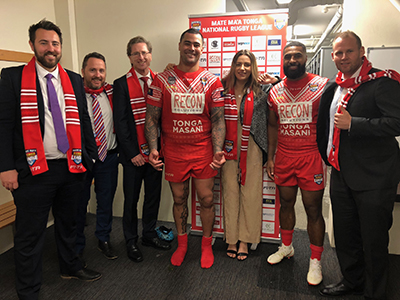 Also noteworthy is Recon Solutions' early support of Brisbane-local and boxing champion, Jeff Horn. Five years ago, Recon's sponsorship allowed Horn to train full time and ultimately go on to become a world champion.
Recon Solutions was there when Jeff Horn took on reigning world champion Manny Pacquiao and was also there 18 months later when he defeated Anthony Mundine on November 30 at Suncorp Stadium.
Recon Solutions further supports a wide variety of organisations including the Queensland Ballet, West Fiji Dolphins Club, Children's Hospital Foundation, the Petero Civoniceva Foundation, and Rochedale State School, among others.
This past spring, Recon raised over $50,000 for the Starlight Children's Foundation, of which Mr Scanlan sits on the state advisory board.
Most recently, Recon Solutions signed Irish-born and 2018 WBO Intercontinental Champion Dennis 'Hurricane' Hogan for a platinum sponsorship.
"He's quickly becoming boxing's rising star, and our team believes he's on his way to a world title win," Mr Scanlan said.
ends