Mantra buys Art Series Hotel Group
MANTRA GROUP it has entered into an agreement with the Deague Group to acquire the Australian-owned Art Series Hotel Group for $52.5 million.
The acquisition will see seven luxury hotels – representing more than 1,000 guest rooms and including a number of conference and event facilities, restaurants and luxury hotel-style amenities – added to Mantra Group's portfolio of 128 properties.
The seven hotels are: The Cullen, Prahran, Melbourne; The Larwill Studio, North Melbourne; The Olsen, South Yarra, Melbourne; The Blackman, St Kilda Road, Melbourne; The Chen, Box Hill, Melbourne; which is currently in the final stages of construction and is set to open in November 2017; The Johnson, Spring Hill, Brisbane; and The Watson, Walkerville, Adelaide.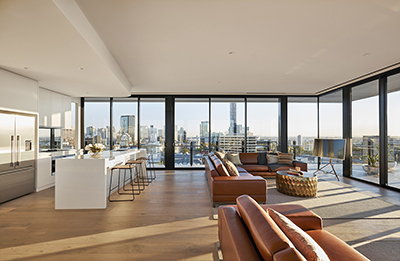 Each hotel is inspired and dedicated to Australian contemporary artists, infusing the namesake artist's works and personality throughout the hotel to create unique art-inspired experiences.
Mantra Group Chief Executive Officer Bob East said recognising the strength of the brand in the market, each business would continue to operate under the Art Series brand.
"These boutique properties are well suited to both leisure and corporate travellers and are located in some of Australia's hottest art and cultural hubs, most of which Mantra Group already has a long-standing and high performing presence," Mr East said.
"This acquisition enhances our existing portfolio and presents a unique opportunity for Mantra Group to increase its footprint across three key locations (Melbourne, Brisbane and Adelaide) in a single transaction.
"This is a rare opportunity to acquire a collection of exceptional hotels and one which is expected to make a significant contribution to Mantra Group's business.
"These hotels have been operated to the highest standards by a passionate and dedicated team, and we are delighted to welcome such iconic and favoured properties to our growing network of hotels and resorts.
"We look forward to working with the owners, team members and guests to ensure a smooth transition."
Settlement of the 'Art Series Acquisition' is expected to be completed in late 2017, subject to closing conditions customary for an acquisition of this nature, Mr East said,.
Mantra already has more than 21,500 rooms in properties under management across Australia, New Zealand, Indonesia and Hawaii.
Arts Series Hotel Group transformed the Australian hotel market when it launched in 2009. Inspired by and dedicated to Australian contemporary artists, each hotel takes design inspiration from the namesake artist.
With original artworks and prints adorning the walls and halls, the multifaceted art inspired experience is complete with dedicated art channels, art libraries, art tours and art utensils on supply. Glass bottomed pools, private outdoor decking areas, state of the art gymnasiums, massive communal spaces and boutique conference and events spaces complete the picture. www.artserieshotels.com.au
ends