Convergence is shaping business travel
THE corporate travel market is witnessing a convergence of forces driving significant change in the industry as new technologies and digital disruption change the face of travel management.
That was the overall conclusion from the recent Global Business Travel Association annual convention in Boston, USA, according to FCM Travel Solutions general manager James Kavanagh, part of the Flight Centre group headquartered in Brisbane.
Corporate travel management companies that are best able to adapt and implement these technologies for the benefit of their clients and in particular enhance the traveller experience will emerge the strongest.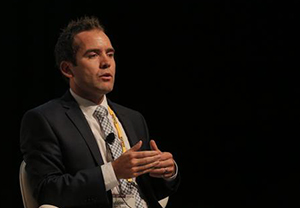 "Travel management for organisations is no longer just about getting the best deals and ensuring compliance," Mr Kavanagh said. "The experience of the traveller has been elevated and along with that the provision of relevant and timely information for them to make better decisions.
"Mobile platforms and mobility will continue to grow and redefine the experience and user engagement."
At the GBTA convention, FCM Travel Solutions unveiled an updated version of its travel-intelligent chatbot Sam. Sam – short for Smart Assistant for Mobile – now has updated functionality that provides city guides, departure gate and baggage claim information, and improved geo-location directions to help guide travellers on the move. Sam is being rolled out progressively in FCM markets.
Mr Kavanagh said the impact of Blockchain technology may have far reaching benefits for the travel industry beyond its value on a payments and operational level. Potential benefits include security features which may be vital for customer satisfaction and retention, he said.
"The rise of internet gatekeepers in the travel industry was seen as a game changer as they amass data which translates into marketplace power," Mr Kavanagh said.
"Sites such as Expedia, Booking.com and Trivago are determining what information travellers are seeing and how they are seeing it. This aggregation can lead to fragmentation in booking processes for corporates with a resulting effect on adhering to travel policies. Industry players will need to consider how to collaborate with them due to their rising power."
The impact of distribution disruption was analysed in the form of IATA's New Distribution Capability (NDC) which is designed to modernise the way air products are retailed to travel agents, corporations and travellers.
The expected impacts were varied, with opinions divided between it just creating a new group of consolidations through to it being a new breed of Global Distribution System (GDS) potentially lowering costs of distribution.
FCM reported seven of the top technology trends for 2017 included enhancing the traveller experience; power of big data and business intelligence; virtual reality advances; rise of artificial intelligence (AI); the future of payments; corporate booking tools; incentive alignment/behavioural economics and gamification.
The onset of AI and enhancing the traveller experience rank most highly in importance amongst current technology trends.
"Voice recognition technologies are changing the way that people interact with various channels and will change how they book and manage travel," Mr Kavanagh said.
"Data analytics and machine learning will become more commonplace and be used widely in the industry to improve experiences and the quality of travel programs.
"We're seeing the impact that Generation X and Z are having with a continued shift to more user-friendly and open programs. Companies like FCM are responding to that."
Some of the biggest shifts are occurring through AI and the use of chatbots to anticipate travellers' needs and provide real-time updates — such as traffic and departure information — and assistance on their mobile device.
ends