Ideas into businesses: CUA-River City Labs program calls for applications
ASPIRING ENTREPRENEURS looking for support and mentorship to turn their idea into a strong business proposition are being invited to apply for a 12-week placement based at River City Labs' innovation space in Brisbane.
Australia's largest credit union, CUA is again sponsoring the CUA Conduit Pre-Accelerator Program – which was formerly called the CUA Sponsored Entrepreneur Program – to provide startups with full-time desk membership at River City Labs to help accelerate their ideas.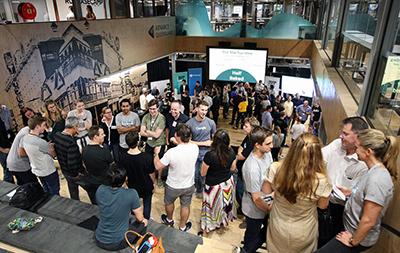 Under the membership, the teams receive support such as structured mentoring, specialist masterclasses and support with publicity and promotion.
CUA has been supporting River City Labs since 2015 and has sponsored 25 teams so far.
River City Labs CEO Peta Ellis welcomed CUA's continued involvement in the program.
"We are looking forward to partnering with CUA again to deliver an expertly tailored program to drive innovation for micro-business," Ms Ellis said.
"We expect to see a high calibre of applications from teams with products already in the market, that will gain value from the workshops and mentor sessions and ready to fast track their progress."
CUA head of innovation, Melissa Witheriff said she was looking forward to seeing new, innovative business ideas being nurtured and developed.
"We've seen previous groups of entrepreneurs identify a significant market need and respond with unique ideas that were turned into value-added solutions," Ms Witheriff said.
"This program is an excellent opportunity for startups to lay the foundations to become strong global businesses."
The collaboration is part of CUA's innovation strategy and the member-owned organisation's focus on leveraging external expertise, tapping into innovative new ideas and supporting startups to develop solutions to real-world problems.
CUA is Australia's largest credit union, Ms Witheriff said, offering responsible financial health and insurance solutions to about 500,000 Australians.
"As a mutual, we were created by members for members and we care for them through the changes and challenges in their lives," she said. "Our growth and success enables us to reinvest in our business, deepen our relationships with members and build stronger communities."
River City Labs powers a range of programs, events and engagement opportunities, enabling its corporate partners to innovate differently and embed their teams within the startup community
Applications are open until 11.59pm AEST on June 11, 2018.
Link for applications:
https://www.f6s.com/conduit-cua/about
ends