Satellite technology lifts safety and efficiency in our skies
AIR TRANSPORT in remote and regional Australia is set to be transformed by a new satellite positioning technology currently being trialled by Geoscience Australia.
The aviation trial is one of 25 currently being run across the country.
Airservices is leading the Satellite-Based Augmentation System (SBAS) project on behalf of the aviation industry, fitting SBAS technology into aircraft and testing it across regional Australia.
An operational SBAS would improve safety by guiding pilots with greater accuracy, especially those flying into regional aerodromes operating under Instrument Flight Rules (IFR). SBAS technology provides accurate guidance for landing procedures at regional aerodromes where ground infrastructure may not be as advanced as that used at larger airports.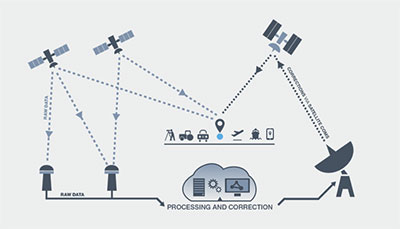 Geoscience Australia's SBAS project manager, John Dawson said SBAS-assisted aircraft approaches were eight times safer than those that use ground-based navigation aids.
"This could mean a pilot can now attempt a landing without visuals down to 200 feet," Dr Dawson said.
"The safety and efficiency benefits this technology provides will result in fewer flights being cancelled or diverted, and can also reduce the number of landing attempts flights may need to make during poor weather."
This will be of particular benefit to services like the Royal Flying Doctor Service, which provides emergency medical transport and primary health care to rural and remote Australia, and often needs to undertake landings in varying weather conditions and at small, remote airfields and other locations where infrastructure and technology is limited.
Minister for Resources and Northern Australia, Matt Canavan, Geoscience Australia CEO James Johnson, and Airservices Australia CEO Jason Harfield, hosted an event at Canberra International Airport in April to demonstrate the technology to representatives from the aviation industry and media.
The event provided an opportunity for pilots to talk about how the technology would help Australian aviation. Aircraft present at the event included the Toll Air Ambulance, used for patient rescue, retrieval and treatment, in communities in New South Wales and the ACT, and an aircraft used by the Royal Flying Doctor Service.
The aviation component of the trial will test two technologies: first and second generation SBAS.
Airservices Australia will receive up to $310,000 in funding from the Australian and New Zealand Governments to trial the technology.
The broader two-year SBAS trial program includes projects in the agriculture, construction, consumer and utilities, resources, spatial and transport industries. It is being funded with $12 million from the Australian Government and a further $2 million from the New Zealand Government.
ends