Facebook group helps SMEs thrive through COVID-19
By Leon Gettler >>
WHEN RACHEL CALLAN from Flamanko Social Media and Katie Martel from Croft PR took a hit from COVID-19, they launched a 'Thriving' initiative to help hundreds of small businesses stay connected, inspired – and thrive – no matter how they had been impacted.
The extraordinary part was that Ms Callan is based on the Sunshine Coast and Ms Martel is in Brisbane. They were able to work together and create the project.
They set up a Thriving Through COVID-19 Facebook community of hundreds of small business owners to share their experiences and share tips on getting through the crisis.
The businesses came from all kinds of industries and locations. The list included gin makers, bedding manufacturers, café owners, tourism and holiday accommodation owners, photographers, plumbers, physiotherapists, psychologists and personal trainers. And they came from all over the world …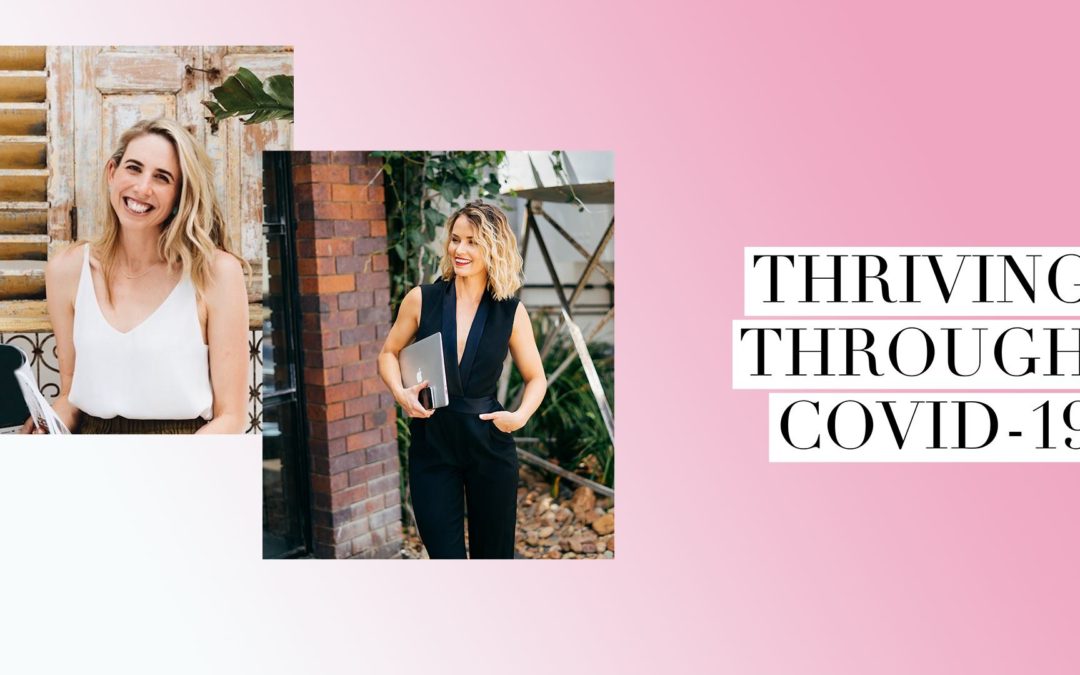 Ms Martel said she and Ms Callan worked with a lot of businesses that were in retail, hospitality, bars and clubs which were at the forefront of the first wave of COVID-19 restrictions.
"From the first week onwards, we were doing a lot of crisis management for them and helping them adjust their entire business model and the way they were communicating with their staff," Ms Martel told Talking Business.
"That was the first week and the second week, pretty much everything turned to lockdown so our businesses were significantly affected. So Rachel and I jumped on the phone and put our heads together about how could support not only our clients but also others in our wider network.
"We figured we should share as much as we knew of what we had already communicated with our clients, help others know they should be communicating but also we were also dealing with the challenges of being mums at home with kids full time," she said.
"We put our heads together and thought there must be millions of others that are out there going through this. Let's do what we can to connect us and share our stories, get real about the challenges that we're all going through and created this group Thriving through COVID."
WIDE VARIETY OF MEMBERS
Businesses in the group included cafes and cake stores, importers, food and beverage, accountants, business consultants, web development and IT. They came in different sizes.
Some had 20 staff that they had to reduce to one or two people. Others were sole business owners. They looked in from everywhere, ranging from Wellington in New Zealand to Sri Lanka.
Ms Martel said the group had been called Thriving not in terms of cash flow but in terms of mental support to help keep everyone strong.
"There is going to be something on the other side whatever that will be – and the biggest message we're trying to share is as long as you keep your community strong, no matter what it was before, and you focus on supporting your community in that time through sharing as much information and supporting your clients and target audiences, you're going to come out well on the other side," she said.
Ms Callan said one of the common threads through the community was about people taking the opportunity to learn new skills as well.
"Taking the time to pause and think about the areas and projects they weren't able to get to while they were in the day-to-day grind. Now there is an opportunity to get on top of all those things that were on the to do list for so long," Ms Callan said,
Ms Martel said that while COVID-19 had impacted on all their businesses, it has also given everyone the opportunity to focus on what's really important … and why they were in business.
Thriving Through COVID-19 Facebook Group
Hear the complete interview and catch up with other topical business news on Leon Gettler's Talking Business podcast, released every Friday at www.acast.com/talkingbusiness.