TransitCare innovates community transport
A COMMUNITY TRANSPORT service, created a quarter century ago to assist people with multiple sclerosis (MS) to make their hospital visits, is today recognised for its technological and organisational innovations in extending those services throughout Queensland.
"TransitCare was started nearly 25 years ago by Ann Langley and was born out of necessity, as there was no suitable transport service to take people with MS to hospital appointments," TransitCare CEO Terry O'Toole said.
"Logan and Albert North Disability Services (LANDS) was created in 1994 and received a Home and Community Care funding grant. Since its inception, the organisation now known as TransitCare has grown steadily, from a predominantly volunteer base to now employing 80 staff with support from 72 volunteers.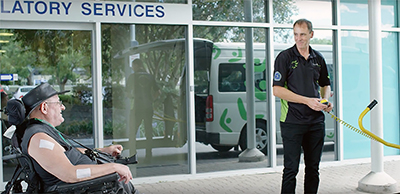 "TransitCare delivered almost 200,000 trips last year and provided tens of thousands of hours of support for social inclusion.
"The trip purpose is still primarily around medical and hospital appointments, although many use our services for shopping and social reasons," Mr O'Toole said.
"We have the most modern fleet of any transporter in Australia and have 52 vehicles on the road each and every day connecting people to their communities."
Mr O'Toole, who started with TransitCare as chief operations officer in November 2014 and stepped up to take on the CEO role in February 2015, said the organisation was steadily transforming into a national leader in the sector.
"I want TransitCare to be the leader in technological advancement, embracing systems that will book, schedule and dispatch in real time and setting the benchmark for community transport providers across Australia," Mr O'Toole said.
"With this kind of efficiency, we will continue to be the most affordable, white-glove service for people with disability living in our communities."
OPERATIONAL INNOVATION
The past year has seen TransitCare realise many of its goals to develop greater efficiencies through implementing new technologies, especially in the areas of document management, trip scheduling, driver management and the move to e-payments.
There have also been innovations in communications and the successful development of an owner-driver program.
"This year has seen us ramp up our work on all things ICT," Mr O'Toole said. "We have seen the successful implementation of an electronic document management conversion, the migration from a cash business to cashless, the development – still in trial phase – of new scheduling technology and the improvements in telephony services. Also, the introduction of a seamless payroll including a self-serve kiosk for all employees.
"We are currently working on our telephony system upgrade which should then complete the vast majority of ICT items.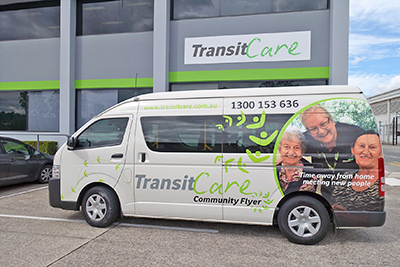 "We piloted a successful owner driver program, boosting scheduling efficiencies," Mr O'Toole said. TransitCare also obtained the new standard ISO accreditation in both quality and environmental elements and successfully transitioned to a cashless environment. The reaction from clients has been overwhelming.
"We achieved a 96 percent satisfaction rating from our clients, commending our service levels – and our Townsville branch achieved outstanding results, growing its client base and suite of services," Mr O'Toole said.
TAKING ACTION
Two major achievements in 2018 were TransitCare's development of its Reflect Reconciliation Action Plan (RAP) and the innovative owner-driver model to assist regional Queensland.
"We are committing to closing the gap," Mr O'Toole said. "The overwhelming staff support for the development and accomplishment of a RAP is our proudest achievement this year.
"The development of the owner-driver model has not only been our most challenging but also the most rewarding project," he said.
"It will allow us to provide regional towns with a reliable service that allows people to travel in comfort and safety at a reasonable price. Some, if not most, of regional Queensland does not have a regular mode of public transport available to them, so this is an important step in keeping people active in their communities and also allowing them to access health needs."
But the past year has not been without its challenges – not least of which was what turned out to be a disruptive roll-out of the National Disability Insurance Scheme (NDIS).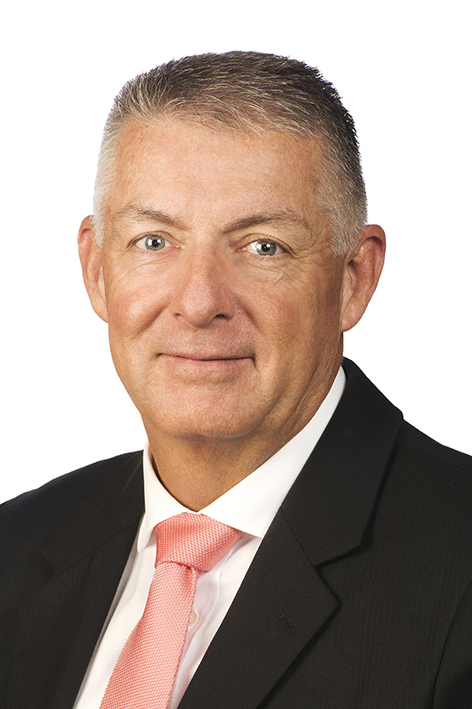 "The biggest surprise this year was the NDIS roll out in Brisbane/Logan and Redlands (regions) in July," Mr O'Toole said. "As service providers, we expected hiccups, but with the lack of appropriate resources and inconsistent information from (governing body) NDIA, our clients faced more challenges than they should have, given the age of this scheme.
"We learned that the interpretation of 'reasonable and necessary' should come with guidance from NDIA as there is much disparity in how it is interpreted.
"The NDIS rollout has made this period of time very difficult. We have consistently reviewed our operation and made the necessary adjustments and refinements to ensure the success of this business over the past 25 years and for the next 25 years. It is certainly very concerning that the NDIS has been live for five years but still has many fundamental flaws which impact on the lives of our most vulnerable clients and their carers."
However, even in spite of the NDIS challenges, TransitCare has been buoyed by the growing success of its Social Engagement Program, which has been revamped over the past two years and is now the fastest growing area of the business.
"We have taken our clients whale watching, crab catching, cruising and watched them participate in a variety of activities both locally and further afield," Mr O'Toole said.
"We will be running a 'computers for seniors program' next year as well, in response to requests highlighted in our client survey."
FUTURE FOCUS
In its 25th anniversary year of 2019, TransitCare is set to motor ahead – especially as technological and operational investments start to pay off.
"Our plans are to hopefully have launched technology that will improve our performance at the service delivery end," Mr O'Toole said. "We are preparing ourselves for a future of on-demand services while still providing the best in care and attention to each and every one of our clients."
Mr O'Toole said governments at all levels seemed unable to grasp the variables that exist in transport and their focus on mass transit does not allow for people with mobility issues or disability.
"The constant agitation required to keep community transport included in the conversation is extremely frustrating," he said. "Operationally, we have honed our scheduling practices to reduce our dependency on taxis during peak periods.
"For years we have outsourced work to cab companies when our fleet is at capacity to ensure our clients travel when they need to. So far a 30 percent cost reduction has been realised due to increased efficiencies and we expect to see further savings."
TransitCare's success with clients, and the service's value-for-money, is proof that communities – especially the disadvantaged – are best served by skilful aggregation of transport, utilising the latest technologies.
"Aggregation is the opposite of ride sharing platforms and TransitCare excels at maximising flexibility for the client whilst effectively deploying vehicles," Mr O'Toole said.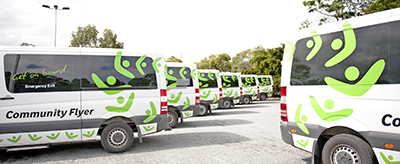 "Successful aggregation addresses the issues of congestion on our roads and, more broadly, our carbon footprint."
"A satisfaction rating that never drops below the 90 percentile is the barometer that we judge ourselves on," he said, putting that success rate down to the types of community-minded people who make up TransitCare.
"This is the most rewarding role that anyone could have: working for people rather than profit."
About TransitCare
Best-known brand: Community Flyer.

TransitCare specialises in transport for the elderly and disabilities sectors. The organisation has 80 paid employees and 72 volunteers, operating on a turnover of about $9.3 million a year.
TransitCare's leadership teamis Terry O'Toole, Francine Wicks, Gary Panlook, and Kerryn Prentice.
www.transitcare.com.au Ph: (07) 3422 7900.
ends