Over 100k downloads of Brisbane App in first six weeks
MORE THAN 100,000 people have downloaded the experiential Brisbane App, developed and introduced by the Brisbane City Council less than six weeks ago.
Lord Mayor Adrian Schrinner said the Brisbane App provided a convenient way to navigate and experience the very best of Brisbane with more than 1650 events currently listed, nearly 8000 places such as restaurants, parks, pools and hotels, and more than 190 activity guides.
"Brisbane is known for its great lifestyle, and the Brisbane App is proving to be the must-have app to find up-to-date what's on event listings, guides for inspiration and interactive maps that take the guesswork out of planning," Cr Schrinner said.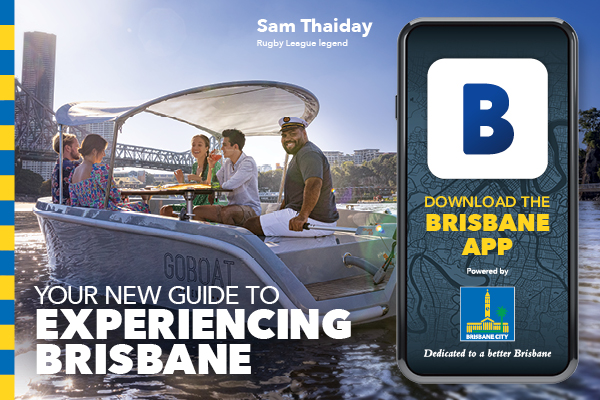 "What we've found is residents are clearly hungry for things to see and do, with users spending an average of 22 minutes exploring the Brisbane App since the launch.
"The guides are also proving popular for inspiration on where to eat, play, shop or visit, with the most popular guides including quirky things to do in Brisbane, budget-friendly activities to do with kids and fun date night ideas," Cr Schrinner said.
"One of the best features of the Brisbane App is that it makes it so easy for residents to discover local businesses that are highly rated by others and our App gives users the ability to share their favourite haunts by writing recommendations and sharing 'likes' with friends and family.
"Not only that, but we're seeing new businesses being added all the time with more than 1500 businesses, from cafes, bars, shops, hotels, and venues, listed on the Brisbane App for residents to discover.
"The Brisbane App has something for everyone, no matter their age or interests.
"As the most small-business friendly city in Australia, the Brisbane App is a great way to encourage everyone who lives, visits or works in Brisbane to get out and support local businesses – this is incredibly important as we recover from the COVID-19 pandemic."
Cr Schrinner said ensuring businesses not only survive, but thrive, was key to Brisbane's economic recovery.
"We are investing more than $58 million in small business and economic recovery initiatives this financial year and the Brisbane App is an important tool to supporting our city's small businesses," he said.
"Local businesses, particularly in the accommodation, events, tourism and hospitality industries need our support and we're proud to have delivered a smartphone app that puts local business in the spotlight."
Data from the first six weeks of operation shows the most popular guides have been:
Quirky things to do in Brisbane (4359 views)
Budget-friendly activities to do with kids (3345 views)
Unique date night ideas (2572 views)
Brisbane's best kept secret (2310 views)
Family friendly adventures (2117 views)
Brisbane's hidden gems (2043 views)
Where to see live music in Brisbane (1973 views)
How to spend the perfect day in Brisbane (1831 views)
Eat, drink and explore Brisbane (1726 views)
Fun outdoor activities (1664 views).
The Brisbane app is available to download via the Apple Store and Google Play. 
ends