Captains of industry mentor Bond's best and brightest
NINE Bond University student leaders have been matched with 'Queensland's captains of industry' in a mentoring program, designed to enhance graduate employability and provide vital career insights and opportunities.
Bond University vice-chancellor and president, Tim Brailsford, said the program was now in its fourth year and had attracted many of the state's top business executives since its inception, including inaugural Queensland Chief Entrepreneur Mark Sowerby.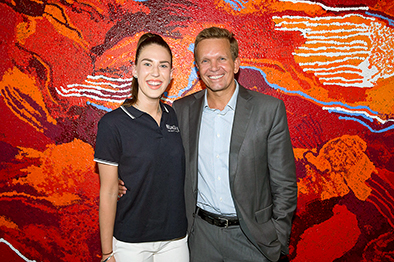 The mentors taking part in the 2017 Vice-Chancellor's Mentor Program are KPMG partner-in-charge, Adam Twemlow; Australian University Sport CEO, Don Knapp; Emmanuel College Principal, Patrick Innes-Hill; Trade and Investment Queensland executive director for international education and training, Rebecca Hall; Blue Sky Alternative Investments head of venture capital and executive director, Elaine Stead; Westpac Institutional Bank executive director, Richard Green; Davidson Recruitment founder and director of growth, Rob Davidson; Bank of Queensland Specialist Business CEO, Brett Robinson; and G8 Education general counsel and company secretary, Sarah Zeljko.
In 2016, Mr Sowerby was paired with business and law student, Emma Sam. Mr Sowerby said the most important thing the program offered students was opportunity, by bridging study with the real world and providing tangible and personal connections.
"I find if you give young people a sliver of an idea, a crack, an opportunity – the good ones tear back the curtain and just go charging through," Mr Sowerby said.
"Emma certainly did this by saying 'yes' to every single opportunity she was given."
Ms Sam said she felt incredibly fortunate to have had Mr Sowerby as a mentor for the past year.
"Mark Sowerby is an amazing man and inspirational leader who has opened my eyes to the business world and possibilities of my future career," Ms Sam said.
"He has taken me under his wing and in doing so, I've been able to experience so many unbelievable things, including working alongside his Blue Sky team on Madison Avenue, New York. Being involved with Blue Sky has given me exposure to an incredible range of individuals from all over the country and the world. I have never felt so inspired and motivated to make the most of every opportunity given to me and take my career in my own two hands and run with it.
"Mark's achievements extend far beyond his building and transformation of Blue Sky, including swimming the English Channel and supporting countless charities. He is truly a down to earth, amazing, inspiring and unique individual and I cannot stress the impact that he has had, and will continue to have, on the rest of my career."
The Vice-Chancellor's Mentor Program pairs students with accomplished mentors within their field of study to provide one-on-one guidance and career advice throughout the duration of their degree. The initiative is offered as part of the Vice-Chancellor's Scholarship, awarded annually to a handful of the country's highest achieving school-leavers.
ends