University of Sydney Robotics Centre helps revolutionise Australian horticulture
AUSTRALIA's first learning and development hub for horticultural robotics has been opened at the University of Sydney.
Located within the university's Australian Centre for Field Robotics (ACFR), the Horticulture Innovation Centre for Robotics and Intelligent Systems (HICRIS) is designed to become a hub for horticulture robotics in Australia. The other major university centre for agricultural robotics is located at the Queensland University of Technology (QUT) in Brisbane.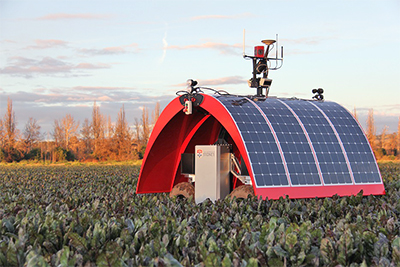 ACFR was officially opened by Assistant Minister for Agriculture and Water Resources, Senator Anne Ruston, on October 6. 
ACFR will initially host two projects in robotics and autonomous technology that aim to increase farm efficiencies, drawing about $9 million in funding from Horticulture Innovation.
The robotics project Evaluating and testing autonomous systems developed in Australian vegetable production systems, will involve designing, building, demonstrating and evaluating robotic platforms and technologies for different farming operations across varied growing regions in order to prove operational effectiveness.
The decision support project Using autonomous systems to guide vegetable decision-making on-farm will further develop technologies to reduce production costs and increase on farm productivity in the vegetable industry, in particular brassica, lettuce and baby leaf.
Minister Ruston said both of these projects build upon previous work by the ACFR, which developed a robotic system named Ladybird — an engineering prototype that has been successfully deployed on-farm to demonstrate crop intelligence and crop manipulation.
​"There are already tangible outcomes from the work done right here. I know there will be many more in the years to come," Ms Ruston said.
"A future generation of students will be trained right here and will take their place as leaders in the horticulture industry, and researchers here will oversee the creation of world-leading technological advancements.
"The centre will support the horticulture industry in defining and monitoring its strategic objectives around robotics and related technologies, and provide opportunities to interact with other agricultural industries interested in robotics.
"Innovation and science are critical for Australia in driving growth and creating jobs — and I'm certainly proud to be part of the Turnbull Coalition Government that has a focus on exactly that," Ms Ruston said.
 "All industries now face an increasingly fast-paced technological landscape. Horticulture is certainly no exception.
"The results of the work you do here will have broad-reaching benefits for Australian horticultural industries—they will benefit from improved information about production, more precise application of inputs, increased productivity and ultimately, reduced costs and higher returns at the farmgate," Ms Ruston told researchers and students at the official opening.​
ends