How nuclear tech determined 'oldest' Aboriginal site
A BARELY noticeable rock shelter in South Australia's Flinders Ranges has been verified by nuclear technology as containing the oldest known evidence of Aboriginal Australian settlement.
Australian Nuclear Science and Technology Organisation (ANSTO) researcher Vladimir Levchenko has co-authored a paper with representatives of the Adnyamathanha people of the Northern Flinders Ranges, published in Nature magazine, marking this 'mammoth' discovery of Australian pre-history.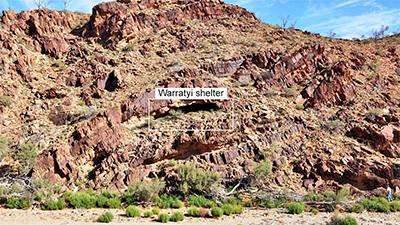 Dr Levchenko's research was undertaken in collaboration with Clifford Coulthard – a member of the Adnyamathanha Traditional Lands Association – who found the site with Giles Hamm, and are co-authors on the paper with Vincent Coulthard, Sophia Wilton and Duncan Johnston. The research is expected to boost both understanding and international interest in Indigenous Australian history and cultures.
ANSTO's Dr Levchenko performed carbon dating research using two separate nuclear instruments at ANSTO's Lucas Heights Campus between 2014 and 2016.

"I was involved as a radiocarbon specialist, and used two nuclear instruments over more than two years – the ANTARES and STAR accelerators," Dr Levchenko said.
"The role of ANSTO and nuclear science extended to analysing shells, charcoal, tools and bones and megafauna, which showed two things.
"Firstly we showed that the site is up to 49,000 years old – the earliest occupied site we have come across in Australia, at least so far. 
"Secondly we proved through dating the megafauna bones, examining the marks on them, and the fact they were collocated, that humans and megafauna interacted.
"We also rechecked and in some cases redid research that was undertaken in other laboratories – to ensure the veracity of the important findings."
The samples were carefully unearthed from their ancient home in the Flinders Ranges, and sent 1,500km and 49,000 years into the future at Sydney's Lucas Heights. 
Two accelerators were used to combine their benefits – STAR with its dedicated radio carbon beamline, and ANTARES, ANSTO's largest accelerator, which can accelerate virtually any naturally occurring isotope.
"The finding pushed radiocarbon dating technique to its best capability," said ANSTO's leader of the Centre for Accelerator Science, professor David Cohen.
ANSTO often contributes to studies that help determine the age of vitally of important artefacts with non-destructive methods, to reveals the true extent of the world's oldest culture while preserving artefacts. 
"Nuclear techniques are applied to analyse and date rock art, tools, ochres and bones, shedding light on the lives of the first people in Australia," Prof. Cohen said.
ends