Solar empowers remote Indigenous communities
SOLAR power technology specialists, Brisbane-based Redback Technologies, has announced a partnership with AllGrid Energy to address energy reliability access issues facing Australia's remote communities.
Under the partnership, AllGrid will utilise Redback's core hardware and software technologies with a focus on adapting the Redback suite for utilisation in remote applications. AllGrid will build additional functionality in conjunction with Redback for integration of water and related bio systems required for increasing quality of life for remote community inhabitants. 
The partnership initiated when Redback Technologies managing director, Philip Livingston and AllGrid Energy CEO, Ray Pratt were presenting at a recent storage summit at Parliament House.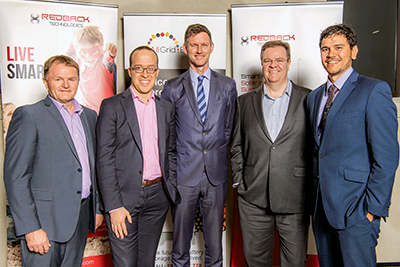 Mr Livingston said it was apparent each company's value proposition and goals aligned, and both were dedicated to their respective products.
"The partnership was a natural fit," he said.
AllGrid Energy, an Indigenous renewable technology company, partners with remote and indigenous communities, implementing what they have dubbed 'The Oasis Strategy', an oasis being a source of abundance in a desert of depletion. AllGrid strives to facilitate a return to self-sufficiency and make a true difference in these communities.
Mr Pratt said the AllGrid team were happy not be re-inventing the wheel in their alliance with Redback.
"Redback's inverter and software technology provide an intelligent platform for the use of storage in the home. This melds perfectly with AllGrid's systems which are ideally suited for the work we are doing in remote areas," Mr Pratt said.
"Bringing the two together will allow the creation of a technologically superior product for our customers.
"Australia is a vast continent and many Indigenous people live in remote and regional areas. The cost of transmitting energy through wires that span thousands of kilometres is enormous and this means that these communities are often compromised in their power supplies and are experiencing real energy poverty."
Redback's proprietary cloud enabled intelligent system for analytics and remote control, which it calls the Ouija Board, uses machine learning to gather intelligence over time, learning from user preferences as well as drawing data from external factors like the weather.
Redback Technologies' Mr Livingston, believes that software is the secret to solar energy management and the partnership with AllGrid will benefit those who are in most need of our collective solutions.
"The idea is to use smart software to maximise the energy produced," Mr Livingston said. "We are both young and emerging companies who are passionate and determined to reach the same vision of a renewable energy future. Our partnership and commitment to collaboration gives us agility and resilience in this new and exciting market."
Ray Pratt pointed out that, "although we are a wealthy first world country, in many remote communities and areas of significant Indigenous population, people are living in third world conditions. Across the world it is being increasingly recognised that renewable technologies have the potential to facilitate self-sufficiency.
"Community engagement is essential to the success of our projects. Delivering holistic outcomes through culturally appropriate methods and education to ensure long term solutions, beyond just technical ones, is our priority."
AllGrid, as an Indigenous corporation, uses a percentage of profits to create training and work programs for the indigenous youth of Australia. AllGrid has notable projects in Western NSW, Port Augusta in South Australia and Northern Queensland, working regularly with Indigenous Business Australia and the Department of Defence.
ends