EY detects 'optimism' for economy among CEOs
DESPITE  living in a time of unprecedented geopolitical uncertainty and disruption, EY's latest Australasian Capital Confidence Barometer has found Australasian executives to be increasingly optimistic about both local and global economic conditions.
In a major turnaround from just six months ago, the latest barometer found a strong resurgence in economic confidence and positive corporate indicators among those surveyed. The number of Australasian executives who thought the global economy was improving has more than doubled in the last 12 months and the percentage who feel positive about their own economy has tripled since October 2016.
 "Executives are accepting that the ever changing geopolitical landscape is the new global geopolitical norm," EY Oceania Transaction Advisory Services leader David Larocca said.
"While corporates expect to see a broadly conservative agenda that supports business building at home and abroad, the overwhelming pressure for growth is evident in our survey – executives are extremely confident of more and higher quality deal-making over the next 12 months."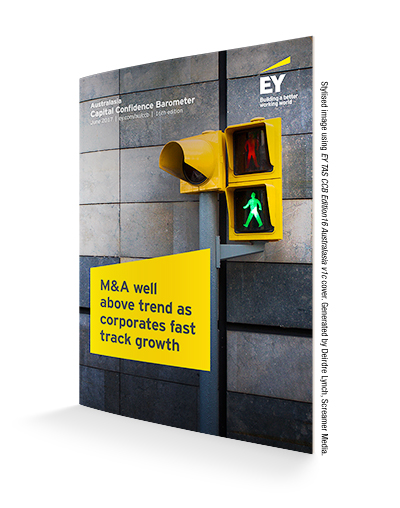 The EY report is based on a global survey of more than 2300 senior executives across 43 countries, including 121 in Australia and New Zealand.
M&A OUTLOOK HIGH
Confidence in the local mergers and acquisitions market is at a record high with 98 percent of respondents now believing the local market is stable or improving. Almost one-third (32%) expect to complete more deals in the next year and 82% expect asset valuations will increase or stay the same over the next 12 months.
Deal pipelines remain healthy with almost 60 percent of respondents having three or more deals in their pipeline. Most respondents expect these numbers to either remain stable or increase.
"There is greater confidence in the quality of transactions with 48 percentof those surveyed saying the quality of acquisitions is improving. This is up from just 14 percent, 12 months ago," Mr Larocca said.
"This tells us there has been a significant improvement in the 'meeting of minds' between buyers and sellers which is also demonstrated by the 82 percent who think asset valuations will increase or stay the same over the next 12 months."
Mr Larocca said the local increase in deal confidence was mirrored in the US with M&A intentions in that market growing significantly in the last 12 months. Confidence and the need for growth strategies are outweighing any anxieties about local or global economies and policies.
Markets have priced in anticipation of corporate tax reform, which could add a potential US$1 trillion of firepower that may be used in deal-making. 
"We see the US returning as a key driver in global deal-making activity, with 76% of US respondents looking to undertake an acquisition in the US or globally," Mr Larocca said..
GOVT INTERVENTION RISK
The EY report revealed one in five local respondents believed that increasing government intervention in corporate decision making poses the greatest economic risk to their business over the next six – 12 months, making it the biggest area of concern. In fact, more executives are worried about regulatory hurdles than about volatile currencies, commodities and other capital markets.
"From a macroeconomic perspective, local executives seem largely unconcerned with the policy uncertainty emerging in the US or the Brexit shakeout," Mr Laroca said.. "They are more concerned with responding to shareholder demands to deliver growth and harnessing digital disruption to acquire new capabilities.  Deal-making is seen as key to succeeding on both of these fronts."
DISRUPTION IS KEY ISSUE
Digital disruption is increasing as a priority, but most respondents are still struggling with digitalising their operations. Future proofing their business against digital disruption is seen as the most important issue for leaders, but local companies are more likely than their global peers (32% versus 24%) to find enabling a culture of digital innovation the most difficult part of their transformation.
At the same time, local workforce planning is more focussed on shifting talent and relocating people to other geographies than on automating roles within the workforce. Fifty-five percent of local respondents are looking to sell or outsource routine functions over the next 12 months. Only seven percent are planning to automate more roles within the workforce – but, there is a potential upside for those companies willing to embrace internal automation processes.
"More than half of those surveyed are looking to sell or outsource routine functions over the next 12 months – this tells us that we will continue to see an uptick in transactions including cross sector activity, as companies look to respond to digital disruption, " Mr Larocca said.
ends