Capricorn region fought floods and 'fake' news
THE economic impact of major flooding in the wake of Tropical Cyclone Debbie in April was bad enough without the economic hit that evolved from inaccurate and sensational media coverage of Queensland's Capricornia region.
That was the overwhelming view of business leaders in the Rockhampton region, from a business survey conducted by Capricorn Enterprise with its members. Nominated as "the one thing that must be done better in future" was correct media reporting of the situation.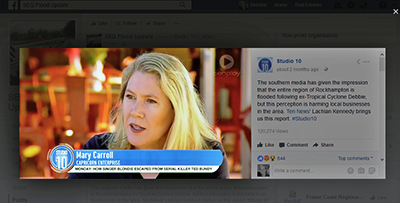 The survey suggested sensationalist media reporting did more economic damage to businesses than the actual flood waters "and media outlets need to be held to account".
Survey recipients also said the Rockhampton Airport closure had huge financial impacts on all businesses.
About 90 percent of survey respondents stated that they were able to trade during the Fitzroy River flood with all respondents stating they suffered income loss during the event. 
About 80 percent of survey respondents were Capricorn Coast – Yeppoon, Emu Park, Great Keppel Island – businesses and 20 percent were Rockhampton businesses.
During the two week period from March 27 to  April 9, 25 percent of businesses surveyed lost between $50,000 to $200,000 in revenue, with 50 percent suffering losses of between $10,000 and $50,000. Another 25 percent of businesses surveyed lost up to $10,000 in trade.
Surveyed businesses stated that the two main reasons for loss of trade and financial hardship was due to cancellation of flights because of the Rockhampton Airport closure and "media mis-information and/or sensationalism".
"These results accurately reflect the public comments made by Capricorn Enterprise during the event as our peak holiday season was greatly affected by both southern media sensationalism and closure of the Rockhampton Airport," Capricorn Enterprise chief executive Mary Carroll said.
"Not surprisingly, additional marketing is the major request from our members following the Fitzroy River flood," she said.
Capricorn Enterprise worked closely with tourism operators and took part in a whole-of-state $2 million Tourism and Events Queensland campaign during April and May in the key markets of Sydney, Melbourne, Brisbane and regional Queensland.
Ms Carroll said, "Studio 10 (Channel 10 network) was the only prime time breakfast program that helped us get the correct message out on Friday April 7, 2017, to a national audience, with their four-minute story then being viewed on Facebook 118,000 times with 1,424 shares and 100 affirmative comments.
"Channel 7's Sunrisestated on air that they would return to our destination to deliver a positive news story and we will keep them to that promise. My comment demanding factual reporting on the Sunrise Facebook page on Saturday, April 1, received over 100,000 Likes, 267 shares and over 100 affirmative comments.  When is mainstream metropolitan media going to listen to the people?"
www.capricornenterprise.com.au
ends