Field Orthopaedics wrist implant wins Innovation Challenge
A SURGICAL WRIST replacement, which uses the power of magnets to return quality of life to sufferers of chronic wrist pain, has taken first prize in the 2016 qutbluebox $250,000 Innovation Challenge.
Field Orthopaedics, a team of medical doctors and engineers, designed the surgical implant device after finding limited options for dealing with severe wrist pain or loss of wrist function.
James Fielding, a medical doctor and chief operating officer at Field Orthopaedics, said a lack of confidence in wrist replacement surgery means many more people have their wrist fused rather than replaced. In Australia, he said, there were only 30 wrist replacements a year, compared with 55,000 knee replacements and 45,000 hip replacements.
"There are far too many people suffering severe pain and at the moment the solutions that are offered to them aren't meeting their needs," Dr Fielding said.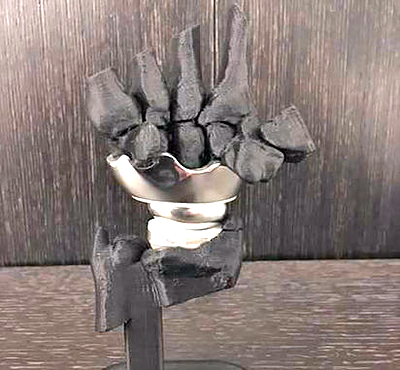 "Wrist fusion should be a last resort due to the dramatic impact on quality of life that results from the patient not being able to flex or bend the wrist.
"We use magnets within the device to allow the wrist to hold its own weight which allows for full flexibility and wrist function so you can use your wrist naturally.
"It has the potential to change many thousands of lives."
As well as Dr Fielding, the company includes Christopher Jeffery (CEO, medical doctor, QUT PhD student and engineering graduate), Gregory Couzens (clinical director, hand and wrist surgeon, QUT PhD student), and Ross Prior (engineering program manager, QUT engineering graduate).
They secured the top prize of $50,000 prize money and $20,000 in other services, which will allow Field Orthopaedics to push ahead with clinical trials and regulatory approvals, after completing a five-minute pitch alongside four other finalists.
LookBooker, an online appointment aggregator for the hair and beauty industry co-founded by QUT business graduate Renee Robbie, claimed second prize.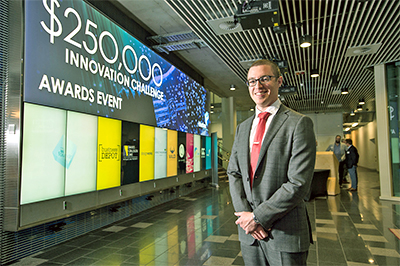 Wi-Fi sharing company Velvet, founded by QUT IT graduate and PhD student David Poxon, finished third.
The other finalists were, Conweigh shipping container, founded by QUT engineering graduate James Oliver, and MedAugment, a smartphone-based augmented reality solution that enhances consumers' engagement with their medical devices. MedAugment includes Prof. Lisa Nissen (QUT lecturer/researcher), Prof. Jean Burgess (QUT lecturer/researcher, Alireza Ahmadvand (QUT PhD researcher) and Tyronne Curtis (film producer and QUT business and creative industries graduate).
Qutbluebox, QUT's innovation venture and investment company, runs the annual challenge to uncover and support outstanding ideas from the university's staff, students and more than 210,000 alumni across the globe. Now in its third year, the challenge received 165 applications – twice as many as last year.  
QUT acting vice-chancellor, Arun Sharma said the quality of innovative ideas was a cause for celebration for Queensland's start-up community.
"The finalists created and developed inventive and exciting ventures, harnessing a range of technologies across different industries, and with the potential for global success," Prof. Sharma said.
"The Innovation Challenge is one of Queensland's best business pitch events and complements QUT's wider goal to encourage and nurture entrepreneurs to help turn their vision into reality."
ends